Dolphins vs Redskins game Summary

10/13/19

Grading the Dolphins

QB The Dolphins lost 17-16 and Fitzpatrick made the game competitive. The Dolphins almost won on the 2 point conversion and Fitzpatrick inserted life into the offense, he was clearly the better QB leading Miami to 2 4th quarter TDs. Rosen had his worst game as a Dolphin failing to get to 100 yeards in 3 quarters. C-

RB The Dolphins started Mark Walton and he looked OK, no significant drop off from Drake. Ballage is obviuosly having a bad 2nd year and looks out of the rotation, although he did score on a goal line situation in jis limited action. C-

WR A great catch by Parker alnost won the game for Miami and Gesicki looks better but still there is a long way to go, the Dolphins don't have a dominant number one receiver. D+

OL The Dolphins O-line was a mess, 3 sacks in the first 6 or 7 plays. The run game wasn't there, just no pass blocking. Fitzpatrick helped when he went in because he throws the ball quicker but still... F

LB The Dolphins gave up 17 points to the Redskins.. That's not good because the Redskins are awful. McMillan is having a good year but Baker has regressed and that's something to monitor as he is supposed to be there on the other side of the rebuild.. D-

DL The Dolphins gave up 17 points to the Redskins.. That's not good because the Redskins are awful. No pass rush to speak of as well. Peterson ran for more than 100 yards even without the threat of a passing game. F

Secondary CB Xavier Howard did not play because of injury and it showed. Plenty of mistakes and wide open WRs without X D-

Special teamsThe least of our problems D

Coaching The Dolphins coaches were aggressive and went for the win, that's fine although that play is not a high percentage play, The team looked better with Fitzpatrick, minor signs of improvement. At least the 1st pick looks closer now. D




On the 1st of November, 1970, RB Mercury Morris, gained a Dolphin record of 302 combined yards. He ran 8 times for 89 yards, received 3 balls for 68 yards and returned 6 kicks for 145 yards.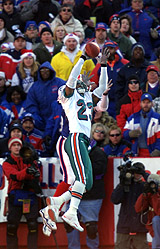 CB Patrick Surtain