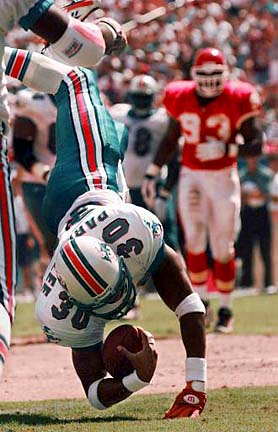 Photo Gallery 1
Rob Konrad, Dan Marino, JJ Johnson, OJ McDuffie, Jimmy Johnson, Jason Taylor and a Monday night game vs Pittsburgh.
Photo Gallery 2
Shawn Wooden, Troy Drayton, Sam Madison, Oronde Gadsden, Dan Marino and Zach Thomas.
Photo Gallery 3
The 99 Seattle playoff game featuring Trace Armstrong and JJ Johnson, Sam Madison returning one of his career high 3 INTs vs The Titans, Autry Denson, Dan Marino in his last game, Oronde Gadsden, Stanley Pritchett, Robert Jones, Rob Konrad and Danny Marino...
Photo Gallery 4
Danny leading the comeback road playoff victory against the Seahawks in 99 and leaving the last game played in the Kingdome with a smile, Tony Martin, Damon Huard, Terrell Buckley, Oronde Gadsden in the amazing comeback at Indy in 1999, JJ Johnson, Jerry Wilson and more.
Photo Gallery - Dan Marino 1
A lot of Dan Marino in game action, including a picture from the famous Don Shula vs David Shula game (Dan had 450 yards) and Irving Fryar.
Photo Gallery - Dan Marino 2
Dan playing baseball and golf, With John Elway, in a limmo and jumping (yes he could jump pretty well in those days) in his first workout for the Dolphins and much more.
Photo Gallery - Dan Marino 3
Lots of pictures of Dan Marino in game action including his superbowl appereance and the New Orleans game when he threw his 400th TD (to OJ McDuffie).
Photo Gallery - Dan Marino 4
Dan practicing, during his charity work with wife Claire, With Jimmy Johnson, looking at his last game, with Don Shula, Peyton Manning and John Elway.
Photo Gallery - Dan Marino 5
Game action pictures, holding the NFL MVP trophy and the 1998 NFL Man of the Year trophy, with coach Shula, playing for the university of Pittsburgh, his first day as a Dolphin and two special pictures of Danny with his ridiculous and never-be-touched records.
Photo Gallery - Marino Retirement
On March 13th, 2000 the Dan Marino era ended with a retirement speech.
Coach Shula, owner Huizenga, Claire Marino and a lot of press conference pictures (full transcript of the speech and comments by players, coaches and even then-President Bill Clinton can be found in the Marino retirement speech page in the Marino section).
Photo Gallery - Past Dolphins
Past Dolphins in their playing days, including Mark Clayton, Mark Duper, Larry Csonka, Bob Griese, Bill Stanfill, Manny Fernandez and Jim Mandich.