dolphinsinfo.com Facts Page
The Miami Dolphins were founded by Joe Robbie in 1966. The Dolphins were a part of the AFL league between 1966 and 1969. With the AFL-NFL merger in 1970 the Dolphins became a part of what is known today as the NFL.
The Dolphins play at Hard Rock Stadium. It's a grass field that was open in 1987. It had a few name changes, first named Joe Robbie Stadium but later on Dolphin Stadium, Dolphins Stadium, Pro Player Stadium, Land Shark Stadium and Sun Life Stadium. Before that the team played in the famous Orange bowl.
Dolphins name
Mariners, Marauders, Mustangs, Missiles, Monns, Sharks, Suns. None of those names suggested to the AFL expansion franchise in 1965 could raise a fin to the runaway winner.
"Dolphins" was submitted by 622 entrants in a contest which attracted 19,843 enteries and more than a thousand different names. The dozen finalists were delivered to a seven member screening committee of local media.
The bottlenose dolphin, an intelligent creature with an irresistable built in grin, has inspired wonder for centuries. Plutrach observed 1900 years ago that a dolphin "is the only creature who loves man for his own sake." Every trainer will have a tale of the dolphin's cleverness and ingenuity, and scientists are fasinated by a dolphin's natural equipment which far surpasses the range of Navy sonar equipment.
"The dolphin is one of the fastest and smartest creatures of the sea," Joe Robbie said in announcing the team name on October 8, 1965. "dolphins can attack and kill a shark or a whale. Sailors say bad luck will come to anyone who harms one of them."
Mrs. Robert Swanson of west Miami won two lifetime passes to Dolphins games with her nickname entry. The tiebreaker was picking the winner and score of the 1965 game between the University of Miami and Notre Dame. It ended in a scoreless tie.
Dolphins mascot - T.D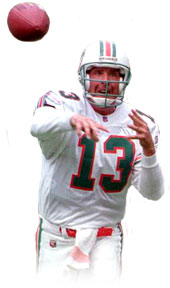 On Friday, April 18, 1997, the first "official" mascot of the Miami Dolphins was introduced. The 7 foot mascot made his public debut on April 19 at Pro Player Stadium during the team's draft day party. The team then made a "Name the Mascot" contest that drew over 13,000 enteries covering all 50 states and 22 countries. 529 names were suggested. The winning entry, was announced at the annual Dolphins Awards Banquet on June 4, 1997.
The club had a live dolphin, "Flipper", who was situated in a fish tank in the open end of the Orange Bowl during the team's early years, and "Dolfan Denny", who has prowled the sidelines for many seasons, including 1998. However, this marks the first time the club actually has an official mascot, one who participates in many of the team's programs in addition to his game-day activities.
Stadium
Sun Life Stadium
2269 NW Dan Marino Blvd.
Miami, Fla. 33056
Business Address
7500 SW 30th st.
Davie, Fla.33314
Business Phone
954-452-7000
Ticket Information
305-620-2578
Team Colors
Aqua, coral, blue and white
Flagship Radio Station
WQAM, 560 AM
Training Site
Nova Southeastern University
Davie, Fla.
954-452-7000
| | |
| --- | --- |
| Position | Name |
| Owner / Chariman of the board | Stephen M. Ross |
| Vice Chariman of the board | Don Shula |
| Vice Chariman of the board | Jorge Perez |
| Vice Chariman of the board | Matt Higgins |
| Chief Executive Officer | Tom Garfinkel |
| General Manager | Chris Grier |
| | |
| --- | --- |
| Stadium phone | (305)623-6100 |
| Opening date | August 16, 1987 |
| Project Cost | 115 million dollars |
| First game | Bears 10 Dolphins 3 |
| First Superbowl | January 22 1989, S.B 23, 49ers 20 Bengals 16 |
| First world series | October 18, 1997, Marlins 7 Indians 4 |
| First Baseball game | March 11, 1988, Dodgers 10 Orioles 8 |
| Parking | 24,137 cars |
| Building size | 648 ft. X 736 ft. (Height-188 ft.) |
Dolphins legendary QB Dan Marino, was the 27th player and the sixth QB taken in the 1983 draft. Elway, Blackledge, Eason, Kelly and O'Brien were picked before Marino.
The player picked right after Dan was Redskin CB Darrell Green.
Dan Marino hit Mark Clayton for 79 career TDs and the pair Marino to Duper connected for 55 TDs in their career.