Dolphins vs Titans Summary

2/1/22

Grading the Dolphins

QB Tua had the worst game of the season against a tough opponet, possibly the best team in the AFC. He was 18 of 38 for 205 yards and an INT. He had drops and bad passes and the enire team looked awful. D-

RB The Dolphins running game had a hard time moving the ball. Johnson led the way with 7 rushes for 49 yards. This game wasn't even close. C-

WR Waddle was quiet with only 3 recptions. He did not play well and this team can not survive without their MVP. Gesicki added 51 yards. D

OL The Dolphins O-line is... BAD. D-

LB The Dolphins could not stop the run and had a bad game on defense as well. Baker had Miami's only sack on an awful game for the defense. D

DL Ogbah, Wilkins, Davis and Zeiler are really playing well this year but this game was by far the worst of the year. They allowed 198 yards rushing! Ouch! D-

Secondary The strongest unit on the team could not help much as Miami could not stop the run and Tannehill did not need to throw the ball finishing with 120 yards and 2 TDs in his 13 of 18 day. C+

Special teams They had enough problems without the special teams unit. C

Coaching After 7 straight wins the Dolphins were eliminated from the playoff race by this loss. They could win next year and finish with a winning record despite the 1-7 start and that's nice but the 1-7 start was also on their watch. D-


On the 1st of November, 1970, RB Mercury Morris, gained a Dolphin record of 302 combined yards. He ran 8 times for 89 yards, received 3 balls for 68 yards and returned 6 kicks for 145 yards.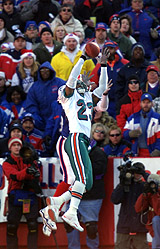 CB Patrick Surtain