Dolphins vs Titans game Summary

9/9/18

Grading the Dolphins

QB Tannehill is BACK. He did have a few bad throws after not playing since December 2016 but he also had a beautiful 75 yard TD on a perfect long throw to Stills. His second INT would have been a TD or an incomplete pass if Gesicki hadn't fallen down (I hate those throws but you can not blame them for going for the huge TE one on one on a CB near the goal line). He finished his first game 20 of 28 for 230 yards, 2 TDs and 2 INT (Rating 89.9) B-

RB Kenyan Drake and Frank Gore plyed very well to start the game but the running game wasn't the same after the 2nd lightning delay. They did seem to have a lrger role in the passing game. The first game was optimistic for things to come. They finished Drake 14 rushed for 48 yards and Gore 9 rushes for 61 yards. B

WR The Dolphins didn't have Parker (injury) and it didn't look like they missed him much. Grant (5 for 38 yards), Wilson and Amendola looked fine. Stills had a big game (4 catches for 106 yards and 2 TDs) but he did have a drop. Wilson (3 for 31, 2 rushed for 7) will probably continue to lineup everywhere. Amendola (4 for 26) is probably the new safety valve for RT but can he hold up for 16 games ? we'll see. Gesicki had his first reception but also had that awful fall that led to an INT. Can't have that. B-

OL The run blocking was much much better than a year ago, especially before the 2nd delay. RT usually haf time to throw but something must be done about the penalties. They just seem to have a hard time recovering from those pre snap penalties. Tunsil had 2 penalties, James one and Sitton one. B-

LB The experiment is on its way. Kiko playing alongside rookie 3rd rounder Baker and esentially rookie 2nd year 2nd rounder McMillan. There were misses but the team survived. Let's hope experience makes them better. C+

DL Zero Sacks. They did injur Mariota on a pressue and contained the Titans run game especailly in the first half. It was an OK game. I did miss the pass rush. C+

Secondary McCain will clearly be challenged early and often. The Dolphins were one drop away from being down 14-3 early because McCain got lucky when the Titans WR dropped a ball in the endzone. Howard and McDonald were quiet and gave up acouple of receptions. the 2 bright spots ? Mincah looks like a star in the waiting. He looked that good and shold play more. Jones won the game for te Dolphins with 2 INTs. There is a reason why he is a pro bowl safety. B-

Special teams Grant went untoched for a 102 yard kick return TD but the Dolphins also gave up a 94 yard TD when they could not touch the Titans and hade another long return early (stopped by newly signed Brandon Bolden). Sanders kickoff need work so negatives offsett Grant's big return. C+

Coaching They looked better than they actually were and I guess it's really hard with the game going on for 7 hours but they got the win. It's hard not to like Gase (although the 3 yard passes on 3rd and 7 help)... B




On the 1st of November, 1970, RB Mercury Morris, gained a Dolphin record of 302 combined yards. He ran 8 times for 89 yards, received 3 balls for 68 yards and returned 6 kicks for 145 yards.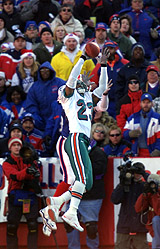 CB Patrick Surtain