Dolphins vs Tennessee game Summary

10/8/17

Grading the Dolphins

QB 12 of 26 for 92 yards TD, INT, How can you lose the fans in the stadium after 2 quarters playing at home?... - The Dolphins defense can't win all games F

RB Zero running lanes but Ajayi kept at it paid at the end, he somehow ended up with 77 yards on 25 carries - Just over 3 very hard earned yards per carry. The Dolphins defense can't win all games D+

WR Parker was injured.Grant almost had a TD and Landry had one but other than that an awful game - drops, zero separation. Time to end the Julius Thomas experiment. The Dolphins defense can't win all games F

OL Zero run blocking, Zero pass blocking, Zero confidence showed by the head coach - The Dolphins defense can't win all games F

LB Kiko had a huge game (6 tackles, sack, forced fumble), Timmons (6 tackles) also upgraded this unit significally. Maualuga started at MLB. A

DL A very good game for the line, Titans only rushed for 69 yards and the line had 4.5 sacks including a first for Charles Harris. A

Secondary Cassel isn't very good and did not have time. That being said they did managed to hold Cassel to 141 yards. Reshard JOnes (sack, fumble recover, TD) deserves an A all by himself to this game. A

Special teams Hack was solid for thr first time this year. Parkey can not go on missing PATs. C

Coaching Let's not forget - They won because the defense played well and the Titans are an AWFUL football team. They were a disaster on offense and the play calling did not help and that's putting it mildly. They clearly have zero confidence in the O-line. By the way, When did throwing a to WR before the line and praying he gets 7-8 yards ever worked ? This team will be a 28 point underdog if they had to face the Patriots. Will probably be 20 next week at Atlanta. The offense is that bad. The defense saves the grade. D




On the 1st of November, 1970, RB Mercury Morris, gained a Dolphin record of 302 combined yards. He ran 8 times for 89 yards, received 3 balls for 68 yards and returned 6 kicks for 145 yards.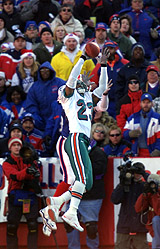 CB Patrick Surtain