Dolphins vs Tampa Bay Summary

10/10/21

Grading the Dolphins

QB The Brisett experiment is probably over. Another week another 17 point performance. His stat line will look not so bad but the object of the game is to score. F

RB The Dolphins at least went back to Gaskin that had 2 TDs on 10 catches. The RBs are supposed to run. D

WR The pedestrian offense should do better next week with the return of Tua. They missed often injured WR Parker and Fuller. Williams ahd 2 catches and then nothing the rest of the way. D-

OL The Dolphins started their 5th combo in as many weeks... The 18th overall pick in the 2020 draft was moved to LG... By the way Buccs LT Tristan Wirfs was seleceted 13th. He has 1 carrer sack given up and that was over qa year ago... (We got Jackson at 18 and Noah later in the first, Tamp got Wirfs with 13... ouch!!) F

LB 45 points ? More than 550 yards ? The defense was awful. Baker is really having a bad year. F!

DL 45 points ? More than 550 yards ? The defense was awful. Davis returned, didn't help. F!

Secondary 45 points ? More than 550 yards ? even Howard looked awful, How low can you get?? F!

Special teams At least we have Sanders... C

Coaching This is bad in so mant levels. They just look awful and I mean 62-7 type awful. Awful in Himalayan proportions. The Defense was supposed to be a strength! Can this team really be the team that snapped the Jags 20 game losing streak next week ? It couold happen.... F !!!




On the 1st of November, 1970, RB Mercury Morris, gained a Dolphin record of 302 combined yards. He ran 8 times for 89 yards, received 3 balls for 68 yards and returned 6 kicks for 145 yards.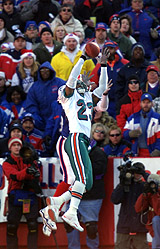 CB Patrick Surtain