Dolphins vs Seattle game Summary

10/4/20

Grading the Dolphins

QB Ryan Fitzpatrick had a bad game. It wasn't the worst in the world but he did throw 2 picks (and enough with "it wasn't his fault he got hit while throwing" thing - How is it that Brady or Rogers never get hit whilr they throw..) and he did not throw a single pass 15 yards past the line. The Dolphins kicked 5 (!) FGs and their only TD was in garbage time. That's not good. D+

RB The Dolphins were reluctent to run the ball. They just did not run at all. they ran a combined 16 times when Ryan threw the ball 45 and ran it for 6 more. Even if one or two of Rya's runs were by design it's still 18 runs to 51 passes. Gaskin led the way with 10 rushes for 40 yards. C-

WR Parker is a beast elite WR. He had 10 catches for 110 yards and he missed missed time in the game with an injury. He deserves an A all by himself. The rest of the WRs are just not getting opened and not catching the ball good enough. Gesicki had 1 catch ! and so did Preston Williams. Does antone still think that Williams and PArker are "the same" WR ?... Ford had 4 receptions but on 10 (!) targets, BTW Parker 10 of 12 targets D+ (Parker - A)

OL The Dolphins O-line isdecent in pass blocking. I know Ryan was hit in the first INT but they can't hold forever. The run blocking needs to improve. They are not the reason the Dolphins lost (although getting something more than -2 yards on 3rd and 4 in the redzone could have helped...) C+

LB They did make a few plays here and there and managed to hold Russel Wilson most of the game. Most not all. Roberts had a decent game but Baker was VERY quiet. NO big plays besides Lawson's sack. C

DL Better, but not by much. Ogbah had a few nice plays but other than him... Wilkins was quiet (second year first rounder...) and the DT play can get better expecially against the run. C

Secondary A bad game. It is Russel WIlson but giving up a 57 yard completion in the last seconds of the half is just a joke. 3 seconds to go and you let Wilson throw to the endzone from inside the 5? Hold! D-

Special teams The Dolphins have a solid special team unit. The kicker and punter positions are a plus. Big game for Sanders. 5 for 5. Sanders is a VERY good kicker. A

Coaching I just don't understand some of the calls. The end of the half was a disaster. The inability to score TDs and some of the play calling... getting minus 2 on 3rd and 4 when you know you will go for it on 4th down if you don't make it... What is wrong with Jordan Howard ? Breida ? Gesicki had 1 catch the last 2 games, I know he is double teamed but you have to figure this thing out. D




On the 1st of November, 1970, RB Mercury Morris, gained a Dolphin record of 302 combined yards. He ran 8 times for 89 yards, received 3 balls for 68 yards and returned 6 kicks for 145 yards.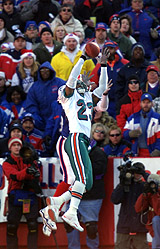 CB Patrick Surtain