Dolphins vs San Francisco Summary

12/4/22

Grading the Dolphins

QB Just a bad game by Tua. He missed open WRs and could not take advantage of open WRs. He was just off most of the day. He did have TDs of 75 and 45 yards but other than that just a bad day. He was 18 of 33 for 295 yards 2 TDs adn2 INTs for a rating of just under 80. Not good. D

RB The Dolphins did not run the ball much - 8 carries for 33 yards as a team. They also did not protect well against Nick bosa (3 sacks). Just not good enough, you can't win like that. D

WR Another brilliant day by Hill (9 for 146 yards). He will break Mark Clayton's 38 year old franchise record for yards next week. Waddle and the other WRs were open but Tua just missed. Waddle was in and out because of injuries. Sherfield had a 75 yard TD on a short pass taken to the house. B

OL The Dolphins O-line was issing it's best player in T-Stead and BOsa and company did get to Tua a few times but it could have been worse. The run game was hardly ever used and wasn't that good when used. C-

LB The Niners played well and the Dolphins defense had trouble containing the 3rd string QB. That's no bueno. C

DL A decent performance against a really good O-line. There is a lot of talent on this line and they can not seem to get enough pressure. C

Secondary The Niners lost Jimmy G at the begining of the game. They played against a 3rd string QB and should have been better. D+

Special teams The Dolphins special teams are not very special. The lack of confidence in the kicker could be damaging down the line. C-

Coaching It was just a bad game and a missed opoortunity with Jimmy G's injury. They have to regroup and find a way to win on the road. Hopefully T-Stead comes back as he is a major part of the offense and is almost irreplaceable. D+


On the 1st of November, 1970, RB Mercury Morris, gained a Dolphin record of 302 combined yards. He ran 8 times for 89 yards, received 3 balls for 68 yards and returned 6 kicks for 145 yards.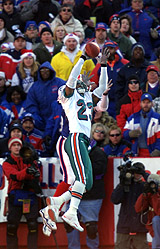 CB Patrick Surtain