Dolphins vs SF game Summary

10/11/20

Grading the Dolphins

QB Ryan Fitzpatrick had a near perfect game - 22 of 28 for 350 yards, 3 TDs 0 INT and a near perfect rating of 154.5. Wow! He completed a long bomb in his first attempt (47 yards to Williams) and added a 70 yarder to Gesicki and TDs to Parker, Williams and Shaheen. A+

RB The Dolphins were OK running the ball. Jordan Howard was inactive and again Gaskin led the way (16 for 57 yards, 1 TD). The Dolphins threw so well there was no need to run before just running out the clock. B-

WR Welcome to 2020 Preston Williams... Williams finally played like expected catching 4 passes for 106 yards and a TD with a long of 47. Parker was quiet but made a lot of damage in his 2 catches (28 and 22 - TD). Gesicki caught the longest ball of his carrer a 70 yard reception. He finished with 5 receptions for 91 yards. A

OL The Dolphins O-line played as good as can be expected. The Dolphins lost LT Austin Jackson to injury so they moved Jesses Davis to LT and played rookie Robert Hunt at RT meaning the Dolphins played 2 rookies on the right side. They did OK. B+

LB They wew without Shaq Lawson but Van Ginkel played well in his absense getting a sack/fumble. They did a good job against a bad offensive unit. B+

DL Better, much better. Seiler is playing well but Godchaux was lost probably for the year so Seiler has to keep his playing level up. Ogbah is also a free agent who is playing as expected. B+

SecondaryXavien Howard had his third INT of the season to go along with Bobby McCain's first. Byron Jones was back and it showed. The Niners are a mess with the injury to Jimmy-G but the Dolphins deserve a ton of credit for their game. A

Special teams The Dolphins have a solid special team unit. Jason Sanders was AGAIN 5 of 5 in FGs and also 4 for 4 in PAT. He should get an A all by himself. A

Coaching WOW, what a game. Great coaching, recognizing the weak link in the Niners defense and going at it constantly, from the first play (47 yarder) to the last. Just Great. Next week, the Jets and a chance to move to 3-3. A+




On the 1st of November, 1970, RB Mercury Morris, gained a Dolphin record of 302 combined yards. He ran 8 times for 89 yards, received 3 balls for 68 yards and returned 6 kicks for 145 yards.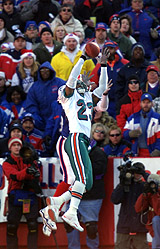 CB Patrick Surtain