Dolphins vs Steelers Summary

10/23/22

Grading the Dolphins

QB Tua is back. He had a great first quarter than he really struggled but somehow got the win. Tua finished the game 21 of 35 for 261 yards and a TD. He wasn't sacked. Ran 4 times for 15 yards. The Steelers did dropped potential INTs. Pretty average after a brilliant first quarter. C+

RB The Dolphins don't seem to like running and when they do they keep trying to get Edmonds involved when Mostert (16 for 79 yards, 4 recptions for 30 yards and a TD) is clearly way better. Edmonds had 7 carries for 17 yards and 2 drops... Time to try Gaskin is the number 2. C+

WR It was a quiet game for Miami's two superstar WRs Hill(7 for 72) and Waddle (4 for 88) were OK but failed to reach 100 yards. They entered the game as 1 and 5 in the league in yards. Sherfield (3 for 44) is now clwarly the 3rd WR. B-

OL The Dolphins O-line benefitted greatly from the return of T-Stead to the LT position. Shell had a ice game on the right side. Much better than Little. Liam is still struggling at LG. They did not give up any sacks but part of that is Tua throwing really quickly. B-

LB The defense played well. Pass rush could have been better but they did keep Najee in check and did not give up the bigh play. 10 points allowed will always get you a win in today's NFL. B+

DL The line had a tough time generating a pass rush all season. They were decent against the run and generally kept the Steelers from breaking anything. B

Secondary The Dolphins started X and... NOAH?! with Bethel, a special teamer as CB3 and that's it. They really need CB help and to make thing worse SS Jones was injured. The Steelers targeted Noah and were succesful for the most part, They somehow managed to get 3 INTs (Bethel, Holland and Noah) and secure the victory in a very tough situation playing 3rd team backups. Good for them! A

Special teams Jason Sanders (3 for 3) at last looked like his old self. The return team is just bad and they missed Crossen but they got by. C

Coaching McDaniel did not have his best game. He went for two EDMONDS runs on 3rd and 2 and 4th and 3 from the Steelers 14 yard line. The call failed and the Dolphins stayed with a 6 point lead instead of a 2 possesion lead. He also decided to throw on 3rd and 3 and stopped the clock giving the Steelers extra 40 seconds to try and win it at the end. Some play calls looked weird. The Defense did look prepared and played well. C-


On the 1st of November, 1970, RB Mercury Morris, gained a Dolphin record of 302 combined yards. He ran 8 times for 89 yards, received 3 balls for 68 yards and returned 6 kicks for 145 yards.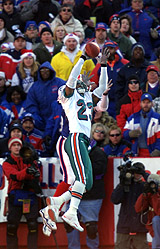 CB Patrick Surtain