Dolphins vs Steelers game Summary

10/28/19

Grading the Dolphins

QB The Dolphins are getting better on offense. They scored 14 points in the first half, looked like a real team and then some costly mistakes and the usual second half collapse gave the Steelers the win. Fitzpatrick finished 21 of 34 for 190 yards, 2 TDs and 2 INTs C-

RB The Dolphins continued with Mark Walton and he only rushed for 35 yards on 11 carries. D+

WR Parker is playing well as he continues to stay healthy. He caught 6 for 59 yards on Monday. Williams had 4 for 42 yards. Gesicki is playing much better than last year. Both Hurns and Wilson had their first TD of the year. C+

OL The Dolphins O-line is playing better, they played without the injured Kilgore but managed a decent game considering. C

LB The Dolphins gave up 27 points to the Steelers including the bizzare play at te end of the first half. McMillan is quietly having a decent year and Biegel has surprised everyone with his intensity. C

DL The Dolphins have no pass rush to speak of. Their line is a mess. Taco had his 4th sack. D

Secondary CB Xavier Howard had his first INT in this injured year. Other than him the Dolphins secondary continues to rotate between new players and players that won't be Dolphins next year. D

Special teamsThe least of our problems B

Coaching The Dolphins coaches were aggressive, what were they thinking going all out with seconds reamaining in the first half?? it was the turning point in the game, the Steelers scored and did not look back. F




On the 1st of November, 1970, RB Mercury Morris, gained a Dolphin record of 302 combined yards. He ran 8 times for 89 yards, received 3 balls for 68 yards and returned 6 kicks for 145 yards.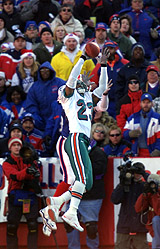 CB Patrick Surtain