Dolphins vs Eagles Summary

10/22/23

Grading the Dolphins

QB Tua had an average game finishing 23 of 32 for 216 yards a TD and an INT. He was rushed all game as the entire left side of the line was missing. C

RB Mostert had 9 carries for 45 yards. The run game in the first half was awful and finished with negative yards. This team misses Achane more than we thought they will. D

WR Hill caught 11 balls for only 88 yards (and a TD), other than Hill Waddle had 6 for only 63 yards and Wilson had 2 for 48 yards. The WRs did not have a good game and they were not as open as they usually are. C

OL The Dolphins O-line lost starting LG Wynn and LEsther Cotton played in his place most of the game. He did not play very well and the entire lest side of Lamm, Cotton and Eichenberg gave up pressures and hits on Tua. The run blocking was also not very good. This team needs C Williams back as soon as possible. D

LB The Dolphins started OK, Long is playing much better and Baker had a pick 6 off a deflected pass but other than that they could not stop the Eagles and gave up 31 points. D+

DL The Dolphins D-line did seem to hold up at the begining of the game but as the game progressed they started to tail off and by the end of the game they gave up 31 points with long time consuming drives. The Eagles converted the awful Tush push play 4 times! and were confident enough to run it on 4th down at their own 26. D+

Secondary The Dolphins secondary played without Xavien Howard and it showed. The depleted unit looked the part. I thought it could be worse considering the circumstances. You can not win in Philadelphia giving up 31 points in long drives. C-

Special teams The Dolphins special teams were OK and they did not have to do much. C

Coaching
Started OK but it all deteriorated from there. Ther 4th down call when they could have kicked a FG was an iffy call. Thet just did not play very well and are missing key players. The defense is nowhere nearly where we thought it would be under Fangio. C-


On the 1st of November, 1970, RB Mercury Morris, gained a Dolphin record of 302 combined yards. He ran 8 times for 89 yards, received 3 balls for 68 yards and returned 6 kicks for 145 yards.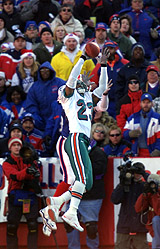 CB Patrick Surtain