Dolphins vs Philadelphia Summary

12/1/19

Grading the Dolphins

QB The Dolphins won in a week both the Bengals and Redskins won !! and that's after being down by 14... bye bye Joe Burrow and Chase Young... Fitzpatrick started with an INT but looked great the rest of the way totaling 365 yards - a season high and 3 TDs. He did not have time to throw but managed. What a bda timing to have a great game... B+

RB The Dolphins can not run the ball. Ballage is just awful but he has no blocking as well. in more than 70 carries this season Ballage has less than 2 yards a carry... he was also injured. F

WR WOW Devante Parker had a huge game carring the team to victory. He looked like a dominant pro bowl WR catching 7 passes for 159 yards and 2 scores. He has 3 three! long jump balls. Gesicki had a good game as well finishing with 79 yards and a TD. Parker alone - A+

OL The Dolphins O-line is not very good, in fact, they are bad. Davenport/Webb whatever - not good. Pressure all day with no running lanes. D

LB 31 points to the Eagles is nothing to write home about nut the Eagles did have short fields.. Eguaven had a good game and the Dolphins are seeing what Van Ginkel can do heading into next year. C

DL The Dolphins have ZERO pass rush, it's just a joke. The win also cost them a chance at Chase Young... D

Secondary They did OK considering their boat load of injuries. Lammons had his first INT on the final hail mary... C

Special teams WOW, a fake Fg with the punter throwing a TD to the kicker ??!?! what the... Sanders missed an extra point A

Coaching The Dolphins are fighting, good for the coaches (bad for the team next year) and played well at times on sunday. Maybe it's just Parker or maybe the coachind staff helped but the looks like a legit number 1 WR. B




On the 1st of November, 1970, RB Mercury Morris, gained a Dolphin record of 302 combined yards. He ran 8 times for 89 yards, received 3 balls for 68 yards and returned 6 kicks for 145 yards.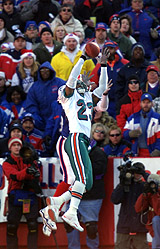 CB Patrick Surtain