Dolphins vs NY Jets home game Summary

1/8/23

Grading the Dolphins

QB Tua is out with another concussion. Teddy is the backup that is always injured when he needs to play and so the Dolphins had to rely on Thompson. He is not a real NFL QB and it showed. He was 20 of 31 for 152 yards (only 4.9 yards per attempt) for a rating of 76.3. The only team you can beat with these numers are the Jets... D+

RB The Dolphins run game won the game and pushed the Dolphins to the playoffs. Wilson 16 for 72 and Mosteret 11 for 71 led the way. The team finished with 162 yards on 32 carries for an average of 5.1 with the longest run being a 21 yarder by Mosteret. Excellent. A-

WR Hill and Waddle were invisible as Skylar Thompson can not throw more than a few yards down the field. Gesicki came alive with 4 for 46 yards. C-

OL The Dolphins O-line was decent considering the injuries. They are just not the same unit without Terron Armstead. C-

LB The Dolphins played very well on defense. I know the Jets are an awful team, especially on offense but still, 6 points is impressive. A-

DL The run stopping was great and the entire fornt 7 played well. How is christian Wilkins not in the pro bowl ?? B+

Secondary There are just so many injuries this unit can take, thank god they were playing the Jets, they will not have such luck next week at Buffalo... B

Special teams The Dolphins special teams are not very special. Sanders did nail the 50 yarder with the playoffs on the line but still... B-

Coaching The win secured a playoff spot (first since 2016) even though going against the Bills with Skylar Thompson is just extending the bad taste of the end of the season a week longer. The good news is the 9-8 record this year somehow feels better than last year's 9-8 record. The team did what they had to do to get in the playoffs even without their QB (or backup QB). The Dolphins will most likely end their season on Sunday at Buffalo, there is no shame in that especially considering the injuries, but what is next for the long off season ? We will to wait and find out... B


On the 1st of November, 1970, RB Mercury Morris, gained a Dolphin record of 302 combined yards. He ran 8 times for 89 yards, received 3 balls for 68 yards and returned 6 kicks for 145 yards.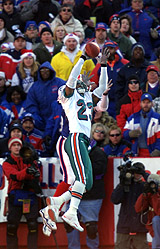 CB Patrick Surtain