Dolphins vs Jets Summary

19/12/21

Grading the Dolphins

QB Tua did not play very well (2 INTs) but he turned it around at the end to lead Miami to victory with his second TD of the day. a good timing to have an off day as they were playing the Jets. C-

RB The Dolphins finnaly found a ruuning game with over 180 yards rushing. Duke Johnson led the way with his first carrer 2 TD day. He ran 22 times for 107 yards, the first Dolphin to go for 100+ in almost a year. He certainly ran hard and made his case for the starting role. A

WR Waddle was absent and it showed. They could not get any separation and the Tua needed to be very accurate with his placement of the ball. Parker was by far the best WR and finished with 68 yards on 4 receptions and the game deciding TD. C

OL The Dolphins O-line is improving. They are still not very good but played very well on Sunday openning holes for the running game and keeping Tua clean. B

LB The Dolphins played well in the 2nd half, totaling dominating the Jets. Baker had a great game. A-

DL Another good performance by Ogbah, Wilkins, Davis and Zeiler. 2nd half was great. A-

Secondary Zach Wilson really can't throw on this secondary despite Holland missing. His absense made it easy to see how much he means to this team. A-

Special teams A bad punt fake continued a bad season for the special teams. D

Coaching 6 straight wins is 6 straight wins not matter the opponets. They did just enough to win but will have to play better down the road. B+


On the 1st of November, 1970, RB Mercury Morris, gained a Dolphin record of 302 combined yards. He ran 8 times for 89 yards, received 3 balls for 68 yards and returned 6 kicks for 145 yards.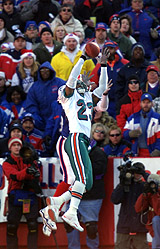 CB Patrick Surtain