Dolphins vs NY Jets game Summary

10/18/20

Grading the Dolphins

QB Ryan Fitzpatrick started strong and at one time had 3 TDs no INTs and a 70+ percentage. Then he kind of regressed and threw 2 INTs but by then the game was all but over. Tua entered the game with just over 2 minutes left and completed his first 2 NFL throws. B

RB Myles led the way and had more than 90 yards rushing. He is clearly the featured back the Dolphins are going with. He also added a few nice receptions. B

WR Not much action for the WRs. Shaheen and Smythe caught TDs and so did Preston Williams. Parker was quiet as the team did not need him to do more than he did. B

OL The Dolphins O-line played well against the Jets. They held their own and had a few nice holes to run through. The pass protection broke a few time (Kindley) but in total a decent performance. B

LB They were without Kyle Van Noy and Ginkel left the game with a concusion but they held their ground and were a part of a nice shutdown. The Jets are bad but they are still an NFL frnachise. A-

DL Ogbah was a monster, 2 sacks and a million hurries and hits. He looked great. So did the rest of the line. Just a great game for them. Zero points! A+

SecondaryXavien Howard had his 4th, NFL leading, INT of the season (Gase should know better throwing at him...). They did have a few breakups in coverage that a good team will exploit but the important stat here is zero points. A

Special teams The Dolphins have a solid special team unit. Jason Sanders was great again, perfect. Grant had a 30 yard punt return. A

Coaching I know the Jets are bad but still, a shutout in the NFL is difficult and the team played very very well. They reached 500 going into the bye week and the part of the season that will determine its outcome. A




On the 1st of November, 1970, RB Mercury Morris, gained a Dolphin record of 302 combined yards. He ran 8 times for 89 yards, received 3 balls for 68 yards and returned 6 kicks for 145 yards.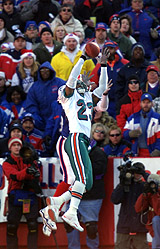 CB Patrick Surtain