Dolphins vs NY Jets Summary

11/3/19

Grading the Dolphins

QB The Dolphins won ! Fitzpatrick played well, threw for 3 scores, 2 to Preston. Good game against a bad team. He finished 24 of 36 for 288 yards and 3 TDs A-

RB The Dolphins continued with Mark Walton and Ballage but they had a hard time running the ball, neither topped 30 yards on the ground. D+

WR Parker (4 for 57 yards and a TD), Preston (5 catches for 72 yards and 2 TDs) and Gesicki (6 catches for 95 yards) played very well. Wiliams looks like a keeper for the other side of the rebuild and Parker is quietly having an injury free year. A career day for Gesicki. A

OL The Dolphins O-line is playing better, again without injured Kilgore but managed a decent game considering. B

LB The Dolphins played better against a bad Jets team that seemed to quit. Biegel is a keeper. B-

DL Cristian Wilkins finally got his first sack to go along with a TFL. It is still a major project but they played better. B-

Secondary CB Xavier Howard is out for the year making the secondary a revolving door of unproven players. Maybe they'll find someone to keep. Darnold is certainly not having a good year... B-

Special teamsThe kicking game can get better but again the least of our problems D+

Coaching The Dolphins coaches fianlly won a game and gave the fans serious worries about losing the chance for Tua... Still a long way to go... B




On the 1st of November, 1970, RB Mercury Morris, gained a Dolphin record of 302 combined yards. He ran 8 times for 89 yards, received 3 balls for 68 yards and returned 6 kicks for 145 yards.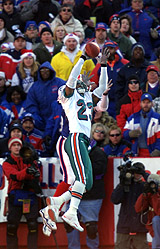 CB Patrick Surtain