Dolphins vs Jets home game Summary

11/4/18

Grading the Dolphins

QB Osweiler had a bad game. There is a reason he is the backup QB. On paper he was 15 of 24 for 139 yards but the reality he was even worse than that. He missed a car-length open Amendola for a big gain with no pressure, missed Parker badly on another throw and had a horrible throw to Drake on 2nd and 4, Drake somehow caught the ball but managed only 3 yards because of the throw, the Dolphins could not convert the 3rd and 1 that followed. The Dolphins had 104 net passing yards, think about it... Oh well, at least he wasn't as bad as Darnold. D-

RB Gore had 53 yards on 20 carries, Drake had 9 yards on 3 cariies and another 26 on 4 throws. It could have been better. Drake also missed a block that led to an end of drive sack. 7 first downs for the offense... D

WR They were open at times (Amendola, Parker) bu the ball wasn't there. C-

OL The Jets sacked Osweiler 4 times and hit him some more, James was injured and returned later but Tunsil left the game. Let's be clear - this team can not play withut Tunsil. Can not. If he can't go next week they might as well hold RT out for another week. The backups are that bad. D-

LB Baker saved the day, they played a good game. Kiko also had a pick. It helps to play against the Jets once in a while. B+

DL 4 sacks and better run stopping. They ahd a solid game, including the newly signed DTs. B+

Secondary OK... let's see. They started with Mincah replacing McCian outside, then they benched (?) Reshard (moved Mincah to safety) and McCain played outside, then McTyer (he's not very good, dropped an easy INT) then Armstrong, then Aikens played safety (had a pick)... Thank god it's Sam Darnold. They did get a few INTs (McDonald and Aikens). A-

Special teams Matt Haack should get paid double for his efforts, I hope he's not sore after this game. He punted 9 times (!) for and average fof 44.7 yards - that's OK. 7 were inside the 20 (that's solid work) with a long of 58. A long day for him. B+

Coaching Winning with- 7 first downs, 104 net passing yards, ZERO offensive TDs and 6 points is not easy but they managed. This will not work next week at Green bay. If Tunsil can't go they might as well rest RT till after the bye. Somehow this team is actaully 5-4 - not for long the way they are playing. The Jets are an awful team, how did they win 3 games ?? C




On the 1st of November, 1970, RB Mercury Morris, gained a Dolphin record of 302 combined yards. He ran 8 times for 89 yards, received 3 balls for 68 yards and returned 6 kicks for 145 yards.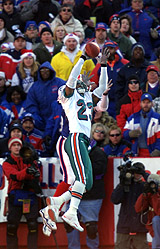 CB Patrick Surtain