Dolphins vs NY Jets home game Summary

10/22/17

Grading the Dolphins

QB Cutler had some OK until he injured his chest. The Dolphins however were down by 7 at the half after his tipped INT gave the Jets the ball at Miami's 1. Moore came in for the injured Cutler and led Miami on a 14 point comecak victory being his wild fun self. In a day the Dolphins could not run the pass game came through. Cutler was 12 of 16 for 138 yards, 2 TDs and 1 INT. Moore was 13 of 21 for 188 yards, 2 TDs and 1 INT. A-

RB Nowhere to run for Ajayi. He couldn't get anything going. He did have some nice runs at the end setting up Parkey for the game winning FG. He finished with 23 carries for 51 yards. C-

WR When the WRs make plays everthing looks a lot better. Landry (7 for 93 and a TD) and Stills (6 for 85 and 2 TDs) made huge plays in the second half to win it for Miami The TEs Thomas (3 for 58 yards) and Fasano (3 for 25 and a TD) also played well. A

OL Ajayi could run at all. He was met in the backfield most of the day. The pass blocking was OK, especially late when the Jets looked tired. Tunsil has a knee injury and that is not good, Pouncey also did not play the entire game. C+

LB The LBs look totally different in the last few games. Kiko was OK. Timmons is a huge upgrade over last season he is a VERY good player. Maualuga made a few nice plays. The problem is that there isn't much depth and sooner or later they will need to rest. B-

DL The Jets had time to throw and there were a few running lanes that were wide open. Wake came up huge when needed and finished the game with 2.5 sacks. Branch was unjured. B-

Secondary They started by making Josh McCown look like a pro bowler and ended with Bobby McCain's huge game winning INT. Tankersley was the target in the first half. B-

Special teams Codey Parkey is a fine kicker. Very cool making the only FG he was asked to kick - the game winner. Other than that a quiet game. B

Coaching Well, the ridicolous ride is just that ridicolous. The Dolphins came back from 14 point down with teir backup QB and backup LT to win it at the end. They gave up way to many points to the Jets but looked resilient as ever in winning their 12th straight game decided by 1 score. Short week playing in a tough place at Baltimore but the Ravens are off to a rocky start. We'll see. Somehow this weird team is 4-2. B




On the 1st of November, 1970, RB Mercury Morris, gained a Dolphin record of 302 combined yards. He ran 8 times for 89 yards, received 3 balls for 68 yards and returned 6 kicks for 145 yards.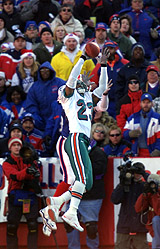 CB Patrick Surtain