Dolphins vs Giants Summary

10/8/23

Grading the Dolphins

QB Tua an average game, he had some very nice throws inckuding a 69 yard perfectly placed bomb to Tyreek but also had two head scratching INTs and some bad decisions that could have resulted in more. He finished 22 of 30 for 308 yards, 2 TDs and 2 INTs with a rating of 100.4. C

RB Achane looks like a super star. He had his 3rd straight 100 yard game ggoing 11 for 151 yards and a TD including a 76 yard score. He did fumble. To think it's only his 4th carrer game and he hardly played in the first. Mostert also had a big day 10 for 65 and a TD. He had a big gain nulified by a penalty. A

WR Hill caught 8 balls for 181 yards including a 69 yard TD and another 60+ yards of a short pass as he ran past everybody clocking the fastest run of the NFL season at just over 22 mph. A+

OL The Dolphins O-line played much better with Connor Williams. Lamm started agains for the injured T-Stead (on IR) and plyed his usuall solid game. It's amazing how the run game improved in 1 year. B

LB The Dolphins played much better against a not so good team. The pass rush was better and Baker, AVG and others had good games. B

DL The Dolphins D-line managed to hold the Giants run game. Seiler had a great game getting to the QB more than once. B

Secondary The Dolphins secondary held the Giants so so WRs. They had some nice pass breakups as X and company helped win the game. B

Special teams The Dolphins special teams are mediocre but managed to do the job needed. C+

Coaching
A win is a win although it will not be enough when better teams come to Miami. The defense played better and the run game was great but Tua had some bad decisions. B-


On the 1st of November, 1970, RB Mercury Morris, gained a Dolphin record of 302 combined yards. He ran 8 times for 89 yards, received 3 balls for 68 yards and returned 6 kicks for 145 yards.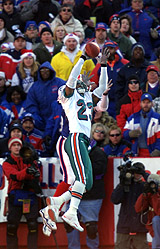 CB Patrick Surtain