Dolphins vs Giants Summary

5/12/21

Grading the Dolphins

QB Tua played a solid game, very efficient goinf 30 of 41 for 244 yards and 2 TDs with a passer rating of over 100. He foung Waddle and Parker when needed and led the team to a 5th consecutive victory. A-

RB The Dolphins running game had a hard time moving the ball but the team continued trying. Gaskin ran 15 times for 44 yards, only 2.9 yards per carry. D

WR Waddle had another good day leading the Dolphins with 9 catches for 90 yards breaking the Dolphins rookie reception record. He now has 86 on the season just 15 reception away from the NFL rookie record. Parker added 5 for 62 yards and Gesicki had 7 catches. B

OL The Dolphins O-line is improving in pass blocking but the run game is still a mess. Tua really helped them look better with his quick release. C

LB The Dolphins totaly dominated the Giants. Philips had 2 sacks continuing his surge. He now has 8.5 sacks to lead the team and looks like a good pick with high potential. A

DL Ogbah, Wilkins, Davis and Zeiler are really playing well and it showed. The defense is rolling. A

Secondary The strongest unit on the team is really blossoming. Holland is a star. They will face harder challenges down the line. A

Special teams Jason Sanders is having an off year and the entire special teams is not playing as good as last year. C

Coaching 5 straight wins is 5 straight wins not matter the opponets. They did enough to win but will it be enough down the road. A


On the 1st of November, 1970, RB Mercury Morris, gained a Dolphin record of 302 combined yards. He ran 8 times for 89 yards, received 3 balls for 68 yards and returned 6 kicks for 145 yards.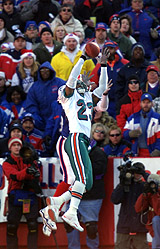 CB Patrick Surtain