Dolphins vs NY Giants Summary

12/15/19

Grading the Dolphins

QB The Dolphins started well but then collpased and lost to a pretty bad team. Fitzpatrick went 23 of 41 for 279 yards and 2 TD and ran for 33 yards on 4 carries. Not bad. B-

RB The Dolphins played better than most weeks. Laird went for 46 on 12 carries (3.8 average) and Gaskin 43 yards in 9 carries (4.8 average). B-

WR Devante Parker was good as usual scoring twice while catching 4 for 72 yards to lead the team. Wilson (59 yards) and Gesicki also played well (47 yards). C+

OL The Dolphins O-line played better and they even run blocked better. C

LB They lost to the Giants, only had one sack to a pretty bad team... Biegel and Baker had INTs C+

DL The Dolphins just don't have any pass rush. None. None. Barkely ran all over them. D

Secondary The patched up secondary made Eli Manning look decent. Needham got an INT but they did give up 36 points to the Giants. C

Special teamsJust an ordinary day... C

Coaching One of the worst games of the season against a bad team. This season could end soon enough. D




On the 1st of November, 1970, RB Mercury Morris, gained a Dolphin record of 302 combined yards. He ran 8 times for 89 yards, received 3 balls for 68 yards and returned 6 kicks for 145 yards.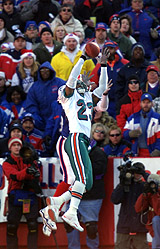 CB Patrick Surtain