Dolphins vs Patriots Summary

10/29/23

Grading the Dolphins

QB Tua had an average game, with some great throws but some that he probably wants to take back. He threw an INT and another was dropped by the Patriots defense. There was also a lost fumble in a handoff that looked as if it was a good handoff from Tua. He finished 30 of 45 for 324 yards, 3 TDs and 1 INT. B

RB The running game really misses Achane, the big play ability is just not there. Moster finished with 13 for 46 yards and his 10th rushing TD of the season (12 total). C

WR Waddle dropped 2 passes but also made some great incredible catches on his was to his 7 catch 121 yard and a TD day. Hill caught 8 for 112 including a perfect 42 yard TD. A-

OL The Dolphins O-line lost starting RG Hunt and then had to play a few snaps without Lamm. Losing 5 linemen is just ridicolous. They managed to get by but they really need Williams and T-Stead back (although Lamm is playing well). Losing Hunt will hurt. B

LB The Dolphins played a decent game, Long really looks a lot better now. They managed to keep the Pats in check for most of the game. Chubb and Philips got sacks. Chubb is really playing well lately. B+

DL The Dolphins D-line did seem fine and managed to stop the Pats run game most of the day. They also pressured Mac Jones some. Solid game. B

Secondary At last - Ramsey played his first game as a Dolphin and had an INT. He should look good with Howard. They managed to get by without Holland that will probably be back next week. Brandon Jones was injured. B

Special teams The Dolphins special teams were OK, McDaniel really seems to not trust the long kicking game... C+

Coaching
Division games are often hard and it was very important to sweep the Pats. The Dolphins are 6-2 for the first time in over 20 years. Now it's on to the mega game in Germany and much needed rest week after that. B+


On the 1st of November, 1970, RB Mercury Morris, gained a Dolphin record of 302 combined yards. He ran 8 times for 89 yards, received 3 balls for 68 yards and returned 6 kicks for 145 yards.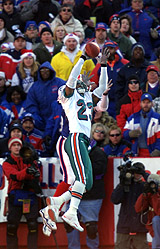 CB Patrick Surtain