Dolphins vs Patriots Summary

9/11/22

Grading the Dolphins

QB Tua had a decent game, he is obviously relying heavily on Hill and Waddle. He finished with a rating over 100 with a 23/33, 270 yards and a TD. A decent game to start but he has to minimize the bad throws that went his way Sunday. B

RB The Dolphins running game is still a work in progress as they coul not get anything going. Their RB seem better... Edmonds carried most of the load with 12 carries for just 25 yards. D+

WR Hill had 8 for 94 and Waddle added 4 for 69 yards including the 42 yard TD on a slant route. Gesicki had 1 catch for 1 yard. A-

OL The Dolphins O-line is still trying to figure it out. It wasn't a bad game but it was wat below what's expected of them. No running game and a few sacks and hurries that ruined drives. C-

LB The Dolphins looked solid for most of the game although the Patriots ran well especially at the begining. B+

DL Ogbah, Wilkins, Davis and Zeiler hare a strong unit. They can and should play the run better but in general a good game. Melvin Ingram scored on a fumble recovery in his first game as a Dolphin. A-

Secondary Rookie Kadhou was a pleasent surprise. He looked good. X and Holland are as good as always. The Dolphins got one game without Byron Jones and survived, 3 to go. Brandon Jones had a huge game including a strip sack that resulted in a Miami TD that changed the game. A

Special teams Nothing special, the Dolphins don't seem to want to return kicks... Sanders started strong. B

Coaching First win as a head coach for McDaniel was fun. He was prepared and aggressive. Great. The team is still a long way to go, especially the offense. I they manage to get to game 5 witha 2-2 record they will be fine. A


On the 1st of November, 1970, RB Mercury Morris, gained a Dolphin record of 302 combined yards. He ran 8 times for 89 yards, received 3 balls for 68 yards and returned 6 kicks for 145 yards.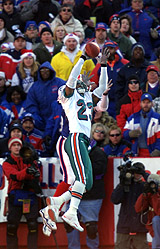 CB Patrick Surtain