Dolphins vs Patriots Summary

9/1/22

Grading the Dolphins

QB Tua had a decent game and did enough to win and finish his second season with a winning record. He was 15 of 22 for only 109 yards and a TD for a QB rating of 94.7. He also shed for 5 times for 38 yards in crucial situations. Now the big question - Will he be back next year ??? B-

RB The Dolphins running game ran all over the Pats. Duke Johnson had 117 yards on 25 rushes. His second 100 yard game of the season. Why didn't he start earlier ? He toatlly dominated the Patriots. A-

WR Waddle got the record and finished with 104 catches for 1015 yards and 6 TDs including a TD on Sunday. Great rookie year. B

OL The Dolphins O-line is not very good despite the investment but played much better this week. It's priority number one AGAIN heading into the off season... B-

LB The Dolphins looked in command all day despite the Pats trying to come back. Another solid day. B

DL Ogbah, Wilkins, Davis and Zeiler have really played well this year. I hope the Dolphins resign Ogbah. He will command a lot but proved he is worthy. An excellent year for Wilkins as well leading all linemen in tackles this year. B+

Secondary Rookie Mac Jones broke the cardinal rule - Don't throw at Xavien Howard! X had a pick 6.... I hope the strongest unit on the team will be back next year as is. A

Special teams Thank God this season is over. This unit did not have a good year. They could not convert a 4th and 2 on a fake punt but the refs threw a flag that ended up giving them a first down. D+

Coaching Winning 8 of the last 9 is VERY impressive but they are also responsible for the first 8 games as well. The Dolphins offense is still awful. They were prepared for the lst game and it showed but still 9-8 wasn;t enough to get in the playoffs, B+


On the 1st of November, 1970, RB Mercury Morris, gained a Dolphin record of 302 combined yards. He ran 8 times for 89 yards, received 3 balls for 68 yards and returned 6 kicks for 145 yards.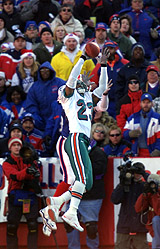 CB Patrick Surtain