Dolphins vs Patriots game Summary

12/20/20

Grading the Dolphins

QB Tua played a below average game as he had no one to throw to. He missed Gesicki and Parker. He did score twice running the ball and led to long drives. He did what needed to be done in order to win the game and move on. He was 20 of 26 for 145 yards anda n INT. C

RB WOW. The Dolphins ran for 250 yards. Ahmed had 122 on 23 carries and Breida added another 86. It was a total domination of the Patriots defense. Best game of the year for the group. A

WR Parker, Gesicki and Grant all missed the game. Bowden looks like someone to invest in. He is only a rookie and he looks promising as a slot guy. With all the injuries he was the number 1 WR with 6 catches and Smythe had another 5. C

OL 250 yards rushing! 250! Kindley was hurt but the line continued to run block very effectively. A

LB The Pats scored 12 points on 4 FGs all day. They managed to keep Newton from running wild like he did week 1. A solid game all around. Elandon Roberts had 9 tackles to lead the team. A-

DL Ogbah collected sack number 9 on the year. The line did a fine job limiting the Patriots to 117 rushing yards. They had a solid game as a group. B+

Secondary X did not have an INT, other than that they held their own a against a pretty bad Patriots offense. 4 FGs allowed is just great in today's NFL. B+

Special teams Not much to see here as the special teams were not a factor in this game. Sanders missed a FG. They seem to be slipinf in the last couple of games though... D+

Coaching Great game, they were in chrage from the moment they took the lead and kept doing things that work. A hook ad ladder on a 2 point conversion was a fun play... Big game next week against the Raiders. Must win again. A-




On the 1st of November, 1970, RB Mercury Morris, gained a Dolphin record of 302 combined yards. He ran 8 times for 89 yards, received 3 balls for 68 yards and returned 6 kicks for 145 yards.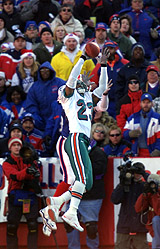 CB Patrick Surtain