Dolphins vs Patriots home game Summary

12/9/18

Grading the Dolphins

QB Tannehill was very efficient and sharp, he only had one bad throw all day and completed some big time throw. Stills dropped what looked to be the most important pass of the day on 3rd and four and then... Tannehill finished with a near perfect rating of 155 after going 14 of 19 for 265 yards and 3 TDs. He was hit hard all day, say what you want about RT buy there is no question he is a VERY tough guy. Well - the 69 yard hook and (2) lateral(s) started with a nice throw as well... A-

RB Gore (12 for 92), Bolden (2 for 60 yards and 2 TDs) played well but Drake gets the grade all by himself for that awsome run on a hook and (2) lateral... He took it the last 52 yards out running half the Pats defense and Gronk. What a play for the ages. A+ - Drake!

WR Stills (8 receptions 135 yards) led the team. All other WRs had no more than 1 catch and well 2 WRs and Drake touched the last miracle pass... Stills did drop what should have been the most important play of the game on 3rd and 4 when the Dolphins needed a FG to win. B

OL JaWuan James an A+ for the first half alone. He was a monster blocking. The rest of the line had a below average game. They blocked well for the running game but Ryan was almost killed with the hits he took. Nice block on Bolden's long TD (including TE Smythe) and on the hook and lateral play C

LB Kiko and Baker had an up and down day as Miami could not stop Brady. He looked like the GOAT. Leaving a LB in coverage hoping Brady won't see it is just not a good idea. The job on sony Michel was decent. C

DL Not a lot of pass rush by the defense. Quinn had a huge sacks to end the half and prevented the Pats from scoring but other than that Brady usualy had time to throw and when Brady has time - Brady does not miss (27/43 358 yards and 3 TDs). C

Secondary He is Tom Brady so you have got to take that into acoount and they survived withput their best player in Howard. Brady put up 358 yards and 3 TDs and should have won the game but it is Brady. D+

Special teams 2 blocked punts ?!?! 2 ?!?!?! that t-w-o blocked punts in one game. You can not possibly beat the Patriots this way (not unless you have a hook and (2) laterls and stuff like that). F!

Coaching What the hell !?! Did the Dolphins really win ? With all do respect to the amazing play... The offense played well most of the game. The protection can be better, they don't have TEs and they could use another WR but the running game was very good and RT was efficient. The defense did not look good. It is Brady but still. The special teams should have lost this game for Miami. This team is still alive, somehow. Great improbable win for the team. A-




On the 1st of November, 1970, RB Mercury Morris, gained a Dolphin record of 302 combined yards. He ran 8 times for 89 yards, received 3 balls for 68 yards and returned 6 kicks for 145 yards.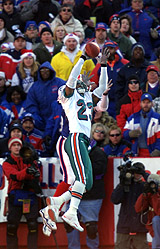 CB Patrick Surtain