Dolphins vs Patriots home game Summary

12/11/17

Grading the Dolphins

QB Cutler played very very well, his best game as a Dolphin. 25 of 38 for 263 yards, 3 TDs and no INTs. Brilliant game, staying on his feet and making great throws all day. A really perfect game. A+

RB Kenyan Drake had his second 100 game (25 for 114) and added 79 receiving yards. He sure looks capale enough. He has a lot of small runs and then he always finds a way to get a big play. Had runs of 31 and 26 and a 47 yard reception. A+

WR The Dolphins got what they needed from their WRs, Parker plyed better. Grant got his first career receing TD but also dropped a perfectly thrown ball on a long ball. Landry had 8 receptions for only 46 yards but 2 TDs. A

OL The run blocking was OK, not more than that but the pass blocking was usually very good. B+

LB They held the Patriots to 20 points. That's enough. A

DL They did pressure Brady and it reallt helped them that they had the lead. Suh was again his usual borderline HOF player. A

Secondary Xavien Howard was a beast collecting 2 INTs and shutting down WR Cooks. A huge game for him, second consecutive 2 INT game. Howard has arrived. Tankersley missed the game but the Dolphins held on. A+

Special teams A nice game for the special teams unit, nothing fancy but a good game. B

Coaching Wow, they pulled out all kinds of creative plays (it helps when your team doesn't have a ton of penalties...). They looked like a different team, when was that all season ? A+




On the 1st of November, 1970, RB Mercury Morris, gained a Dolphin record of 302 combined yards. He ran 8 times for 89 yards, received 3 balls for 68 yards and returned 6 kicks for 145 yards.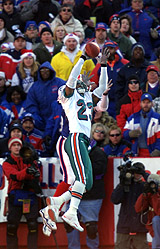 CB Patrick Surtain