Dolphins vs Vikings Summary

10/16/22

Grading the Dolphins

QB Skylar Thompson played better than last week(7/13, 89 yards) and he could become a backup but not this year. He played less than a ahalf and then got injured. Teddy Bridgewater came in and despite the more than 300 yards he did not look as good as it looks on paper. He was 23/34 for 329 yards with 2 TDs and 2 INTs. Some of the yards were just garbage time yards against prevent defense and great plays by Tyreek after the catch. D

RB The Dolphins abandoned the running game again. It doesn't make any sense since they are playing with banged up QBs that never practice for the game... Mostert had 49 yards on 14 cariies for a 3.5 average but still... D

WR It's hard to grade the WRs as Waddle deserves a D despite his 129 yuards and Hill deserves his usual A+. This guy is just out of this world. The best WR the Dolphins had since Clayton or perhaps best ever. Yes he is that good. He somehow managed to catch 12 passes for 171 yards. Gesicki had a nice 2 TD game but they were late and irrelevant. The rest are just invisible. Wilson looks like a bad signing... C- (Hill A+)

OL The Dolphins O-line is just plain bad without Armstead. The Vikings were abusing the Dolphins and had a ton of sacks and pressures. They constantly moved them out of FG range and to make things worst the O-line also had a bunch of penalties. Even Hunt had a bad game. Eichenberg and Little are just plying poorly. They cann't seem to get Austin Jackson back, who would have thought we would say that sentence. As for T-Stead, it's tricky, he was playing with a toe injury, He missed his first game after seeing a specialist. He probably needs the rest but we can not send Tua out next week with this kind of protection coming from the left side. We just can't. F

LB It looked decent but they did give up 24 points and the usual big play. They are the only unit on this team not missing someone. It was OK. Nothing speical. B-

DL The line looked OK with a few pressures early but they could not get to Cousins at the end and gave up a long TD run. It was OK. B-

Secondary So X came back but Kohu was missing and Crossen was injured. They had to play Noah for crying out loud and he even had 2 PB. Yes. It's true. The Dolphins are now without CB2, CB3, CB4 and relying on Noah. God help them. How did they manage to somehow play a decent game is beyond reason. Good for them. Jefferson did get to 107 yards at the end but that's OK considering... B+

Special teams By far, the worst unit on the team. They again missed a FG and missed on Vikings return. They also missed on a fake punt. With all do respect to Sanders, he is high paid and this is not a high paid kicker play. You can get that signing someone of the street. F

Coaching McDaniel did his best with a million injuries and some bad luck but still he could have done better. Telegraphing plays, abandoning the run game, letting special teams play deteriorate... Tua will be back next Sunday night but can he really put him in with this kind of left side O-line ? Is it time to shake the O-line ? We will see next Sunday in what has become a must win game for the Dolphins. D+


On the 1st of November, 1970, RB Mercury Morris, gained a Dolphin record of 302 combined yards. He ran 8 times for 89 yards, received 3 balls for 68 yards and returned 6 kicks for 145 yards.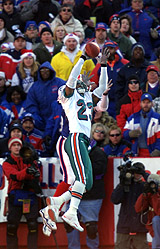 CB Patrick Surtain