Dolphins vs Raiders Summary

11/19/23

Grading the Dolphins

QB Tua had an average game. The stats look good 28 of 39 with 325 yards, 2 TDs and an INT for a rating of 103 but they just could not get in the endzone in the second half against the Raiders and that's just not good enough. B

RB Mostert had 86 yards on 22 carries. Achane long awaited return lasted all but 1 drive when he injured his knee. The Dolphins had 99 yards as a team against a bad run defense team. That's just OK. C

WR Tyreek is just out of this world, he had 146 on 10 receptions and it looked like a ordinary game. Waddle played well in the one drive Tyreek missed but other than that he continued his so so year. B

OL The Dolphins O-line missing their 2 guards had to play Eichenberg as the RT because of Hunt's injury. They played OK but could not get Mostert a big gain all day. The pass blocking was OK but a big reason was Tua very quick release. B-

LB The Dolphins held the Raiders time and again even when the offense gave the Raiders the ball in good field position. Great game by the entire defense, Philips had a couple of sacks and an INT. A-

DL The Dolphins D-line did a great job containing the Vegas' run game. Wilkins had a strong showing. B+

Secondary WOW, Ramsey looks like a star as he sealed the game with his 2nd INT of the game. He now has 3 INTs in the 3 games he played, he also covered very well all game against a top 5 WR in DeVante Adams. He was beat once by Adams in a long ball that fell incomplete. Howard had a few gightlight reel plays as well. A

Special teams The Dolphins special teams are not very good and missed another FG. Watching them is an adventure. D+

Coaching
They did not play very well on offense with 3 turnovers. It was just sloppy play. The defense really carried this team to the victory against the Raiders. It will not be enough against good teams and they really need to step up in their upcoming games. They are better then their next 4 opponets and need to win against inferior teams before entering their killer 3 games to end their regular sesaon. B-


On the 1st of November, 1970, RB Mercury Morris, gained a Dolphin record of 302 combined yards. He ran 8 times for 89 yards, received 3 balls for 68 yards and returned 6 kicks for 145 yards.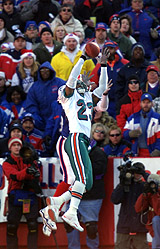 CB Patrick Surtain