Dolphins vs Las Vegas Summary

9/26/21

Grading the Dolphins

QB Brisett wasn't very good. He made Chad Henne looed like a gunsliger. He finished with 210 yards on... 49 ! attempts and 32 completions. Thats just over 4 yards per attempr and LESS than 7 yards per completion. An let's not get into that safety play... Don't be fooled by the 28 points in the 70 minute game and OT. They score 3 TDs, 2 FG and a 2pt play but - One TD was scored by the defense, One TD was after getting a VERY short field (following a defensive stop) and the third TD was helped by a PI in the endzone and they scored on their 4th (!) attempt from the Raiders ONE... BTW, they also scored 2 points for the Raiders. The offense is just terrible . D-

RB The Dolphins don't think the RB is an important position and it showed. They don't have a RB that can carry this team or run behind this line (who could ?). The offense is just terrible. D-

WR They did not do much as Brisett threw 3 yard passes all day. He started throwing deeper when there were no other alternatives in the 4th. They didn't catch any long balls. How pdestrian were the throws ? Waddle (so called big play WR) had 12 (!) receptions for only 58 yards (!) He became the first WR to have such a low yardage mark on so many recpetions in NFL history! Let me remind you this league is over 100 years old... The offense is just terrible. D

OL The Dolphins moved Jesse Davis to LG, benched Kindley and started Eichenberg at RT. The pass blocking was slightly better but maybe that's the result of the Raiders D-line. Despite the huge investment in the the O-line it is still the weakest link on a losing team. That's saying a lot. The offense is just terrible. D-

LB Philips had some better pplays but still was far from the promise of a pass rusher (let alone a dominant one). Baker continued his so-so year. Did Van Ginkel play ? His name wasn't called. His good off season was probably a result of Miami's now famous O-line... Elandon Roberts made thd play of the year and kept the team in this game. B-

DL The Dolphins can't rush the passer and gave up a crucial run that seasled it for the Raiders. As always, this unit could not stop the run effectively or rush the passer. Ogbah was OK but other than that... The Raiders starting guard was wavied by Miami in training camp (and that's with Miami's line!) so how good can the Raiders O-line really be ? C

Secondary The Dolphins secondary is elite. Sure, they gave up more than 350 yards but in generla they played well and did not break muck. They certainly kept Miami in this game. Rowe and Byron Jones did an excellent job on all-world TE Waller. B

Special teams Jason Sanders missed a FG inside 50 yards and the team lost in OT... Other than that it was OK. C-

Coaching Well, another terrible game. The offense is just terriblr. Questioning play calling is always problematic and I don't tend to do this but... an unblocked WR screen form your own 1 ?!? Waddle got it at the minus 3 with a defender on him and 3 others close by. How bad was it ? It was the first time in league HISTORY (again - this league is more than 100 years old) that a safety was recorded on a COMPLETED pass with no fumble or penalty involved. Also, in OT, the Raiders scored, the Dolpihns were around the Raiders 30 with 3rd and 3 and they call a TE shovel pass ? The "nifty" 6-6 Gesicki was supposed to navigate around Miami's blocking ? really ? Miami's blocking ? The Dolphis kicked the FG on 4th and 2, The Raiders won on the following possesion. As for the O-line - Jackson had a good block on Malcom Brown's TD but remember 18th and 26th netted Austin Jackson and Noah. the 13th pick netted Tristan Wirfs... F !!!




On the 1st of November, 1970, RB Mercury Morris, gained a Dolphin record of 302 combined yards. He ran 8 times for 89 yards, received 3 balls for 68 yards and returned 6 kicks for 145 yards.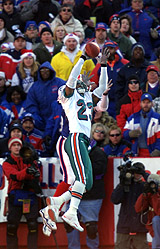 CB Patrick Surtain