Dolphins vs Raiders game Summary

12/27/20

Grading the Dolphins

QB Tua played a bad game, he just could not throw the ball down field at all. Fitzpatrick came in and saved the season for the Dolphins throwing deep and leading the team to the comeback win. His last 34 yard pass when hos hear was brutally turned to the side with a facemask that added 15 yards will go down as one of the best throws in Fins history and one of the highlights of the 2020 NFL season. Tua D, Fitzpatrick A+

RB Myles Gaskin had a very good game both in the running game (14 for 87) and the passing game (5 for 82 and 2 TDs). He took a short pass and turned it into a 59 yard TD. Gaskin is clearly the best RB the Dolphins have but the position will need to be taken into account in the 2021 draft. B+

WR Receivers ? really ? The Dolphins don't have any. With all do respect to the Hollins catch (what a blown coverage...) they dropped passes and really look like the is no legit number one. Parker was injured and it showed. They really need 2 new WRs next year. C

OL A decent game in the run blocking, a decent game pass blocking (the WRs just could not get open). Decent. C+

LB The Raiders when kept relatively in check up to the fourth. They then gave up too much and the Raiders scored. By the way Baker is having a very good year and so is Van Ginkel. B

DL The pass rush wasn't very good when rushing a basic front. They did enough to win the game although some of the secondary breakups are just too much time to throw. C+

Secondary X did not have an INT. Giving up an 85 yarder is never good. Byron Jones was torched for the 85 yarder and called for the PI that should have won it for the Raiders. The entire secondary can do better. D+

Special teams The special teams are continuing their bad strech of games. Nothing new here. C-

Coaching Luck counts in football. The ending was just pure luck with alittle Fitzmagic and an awful play by the Raiders qat the end. The season is still alive but not for long. B-




On the 1st of November, 1970, RB Mercury Morris, gained a Dolphin record of 302 combined yards. He ran 8 times for 89 yards, received 3 balls for 68 yards and returned 6 kicks for 145 yards.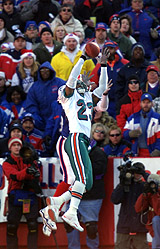 CB Patrick Surtain