Dolphins vs Rams game Summary

11/1/20

Grading the Dolphins

QB Tua did not look comfotable in his first carrer start. He was 12 of 22 for 93 yards and a TD. The game situation called for an ultra conservative approach and he did not havfe to throw to win. 3 east drops didn't help the completion percentage. C

RB This team has a hard time running the ball. It was predictable because of the situation but that can not be the only reason. Myles Gaskin will miss a few games with an injury. C-

WR Bad game, not much throwing but there in no excuse for Preston Williams dropping easy passes. He just looks bad. Parker and Gesicki need to be more involved. D

OL The Dolphins O-line played as good as can be expected. They gave Aaron Donald a sack-strip-fumble but that seems reasonable considering Donald's talent. The run blocking can be much better. C

LB Wow what a game for the defense. Lawson's sack-strip-fumble with Van Noy's return was basically 7 points. Van Ginkel returned the fumble cause by Ogbah 78 yards for a score. A+

DL Ogbah was a monster again with his game changing sack. Wilkins got his first career INT. They dropped a few times confusing the Rams. The line played well. A+

SecondaryIt does help to have Byron Jones back...The secondary played well again this time against a good QB. They did allow a few passes with missed communication but giving up 17 points to the Rams is a win. A

Special teams Grant had his 5th career TD return on an 88 yard punt return. Sanders did not have to kick a bunch of FGs. The only down play was giving the ball after a kickoff at the 40, but again a punt return TD is the important thing. A+

Coaching Great game plan, good execution. They totally caught the Rams unprepared. Good win. It gets much tougher next week at Arizona. A




On the 1st of November, 1970, RB Mercury Morris, gained a Dolphin record of 302 combined yards. He ran 8 times for 89 yards, received 3 balls for 68 yards and returned 6 kicks for 145 yards.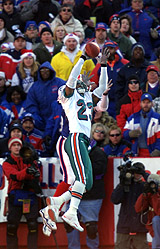 CB Patrick Surtain