Dolphins vs LA Chargers Summary

9/10/23

Grading the Dolphins

QB Tua was PERFECT. He went 28 of 45 for 466 yards (5th most in Dolphins history) and 3 TDs with 1 INT and a rating of 110. He hit long balls and explosive plays left and right as he led Miami to a great win. He certainly outplayed Herbert. A+

RB The Dolphins again were not interested in running the ball as Mostert led the way with onl 37 yards. The way Tyreek and Tua were playing can we blame them C

WR Hill led the way with 11 receptions for 215! yards and 2 TD. He was simply unblockable. The Chargers somwhow thought they could sneak a few plays where they only had single coverage in him - big mistake. What were they thinking ? Waddle came back from the injury and had 4 catches for 78 yards. A+

OL The Dolphins O-line was solid even though they were playing without probowl LT Armstead. backup tackle Lamm plyed very well and so did RT Austin Jackson. ZERO sacks is impressive considering the opoosition. A-

LB The Dolphins played well on offense, the defense was another story. They gave up more than 200 yards rushing and were unable to stop the Chargers, that simple. D-

DL See LBs... Giving up more than 200 yards and 34 points is just bad. F

Secondary Holland and new S Elliot combined for almost 30 tackle as the front 7 could not stop the run. They manages to hold the Chargers WRs from having a good day. Howard had better days. Kohu had his first sack in a huge play that contributed greatly to the win. C+

Special teams The Dolphins special teams are not very special and we know that. The missed extra point could have cost them tha game. D

Coaching An impressive win with a great offensive game plan. If they could only stop the Chargers once in a while... Next up is a crucial game at New England. In order to win the division you have to beat the division opponets at home and sneak at lest one road victory, next week could be that week. A-


On the 1st of November, 1970, RB Mercury Morris, gained a Dolphin record of 302 combined yards. He ran 8 times for 89 yards, received 3 balls for 68 yards and returned 6 kicks for 145 yards.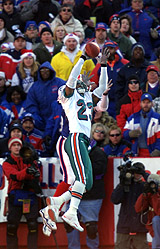 CB Patrick Surtain