Dolphins vs LA Chargers Summary

12/11/22

Grading the Dolphins

QB Just another bad game by Tua. He missed throws and was only 10 for 28 and 1 TD. He heads to Buffalo coming off back to back bad games. D

RB The Dolphins did not run the ball much - 11 carries for 37 yards for Mostert, Wilson ran 4 times for 26 yards. The Dolphins are getting away from the run even when it is working let alone when it's not. C

WR The Dolphins were just not getting open. Tua was off bu in this case they did not give him enough separation. Hill had 4 catches for 81 yards but 60 came in his lone TD, second WR, Waddle had only 2 catches for 31 yards. That's bad.D

OL The Dolphins O-line is just different when T-Stead played. They weren't that good as Tua scrambled and was pressured but they are much better when he plays even if it's not his best game. C

LB The Dolphins don't a have a big time pro bowler ILB. They knew this coming into the season but did not have the opportunity to fix it. Tindall, the Dolphins 3rd round pick, has single digit defense snaps all year... C

DL A decent performance, Wilkins is playing well and so is Philips as and edge but no splash plays. Chubb is decent but he is getting paid to be dominant, he isn't. Not yet. C

Secondary The Dolphins banged up secondary was torched by Herbert. The Dolphins are really hurting in the secondary. I not for Kader Kohu it would have been worse. X is not having his best season to say the least and the 3rd CB spot is a problem. The back up safety opposite Holland is really missing Brandon Jones. D+

Special teams The Dolphins special teams are not very special. C

Coaching A tough loss against a team fighting Miami for the playoffs. Really bad performance. They could have won the game but a few bad decisions really hurt them. D+


On the 1st of November, 1970, RB Mercury Morris, gained a Dolphin record of 302 combined yards. He ran 8 times for 89 yards, received 3 balls for 68 yards and returned 6 kicks for 145 yards.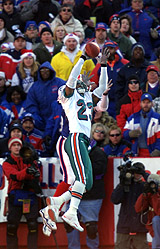 CB Patrick Surtain