Dolphins vs Chargers game Summary

11/15/20

Grading the Dolphins

QB Tua looked solid going 15 of 25 for 169 yards and 2 TDs. He did have 2 bad throws and one of them should have been intercepted but other than that a solid game and another win - 3 in a row for him as a starter. B+

RB Without the top 2 RBs the team turned to practice squad member Salvon Ahmed and he delevered. Ahmed finshed the game with 85 yards on 21 carries and a TD. He clearly was the leading back as Howard looks like the odd man out. B

WR Jakeem had a nice game that included a TD (4/43, TD). All other WRs were quiet with up to 2 catches. C

OL The Dolphins O-line did a goodt job against the pass and played much better run blocking for Ahmed. Jackson played LT and Davis played RT. Kindley returned to his RG position with Hunt going to the bench. B+

LB A good game for the entire defensive unit. The Chargers added a garbage time TD but the defense essentially held them to 2 TDs. B

DL Ogbah had another sack (and two PD!), he now has 8 for the year. Raekwon Davis looks much improved and made some plays. They missed Wilkins but let's hope he comes back soon. B+

Secondary A great game, another INT for Howard. The secondary really played well against very good Chargers WRs. Herbert had only 187 yards and some of them were in garbage time at the end. A

Special teams Wow -Van Ginkel blocked a punt and the Dolphins recovered at the 1. Jakeem had a 20 yard punt return. A+

Coaching Again missing 4 coaches the coaching staff did a great job. They managed to prepare the team and stop the Chargers offense and confuse them. The special teams is playing at a very very high level and the defense looks great as well. A+




On the 1st of November, 1970, RB Mercury Morris, gained a Dolphin record of 302 combined yards. He ran 8 times for 89 yards, received 3 balls for 68 yards and returned 6 kicks for 145 yards.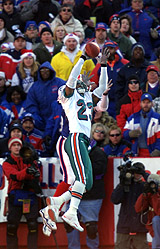 CB Patrick Surtain