Dolphins vs LA Chargers game Summary

9/29/19

Grading the Dolphins

QB The Dolphins lost 30-10. Rosen was efficient in the first half when he had time. He made misteakes and was bad in the second half. D

RB The Dolphins lost 30-10. The run game was OK the first half, non existent the second, like the rest of the team. Drake had a decent game but fumbled again. Ballage is not playing accordinf to the pre season expectations. D-

WR The Dolphins lost 30-10. They played like the rest of the offense, decent first half, bad second. TEs were invisible. Parker and Williams were themselves meaning PArker has glimpses and Williams drops... D-

OL The Dolphins O-line was decent in the first half. They did give up 5 sacks but with the injuries and general lack of talent - it was the as exppected. They did have some nive plays. Rookie RT Prince played for the first time and Boehm also had some decent plays. D-

LB The Dolphins lost 30-10. Why isn't Rakewon McMillan playing more ? D-

DL The Dolphins lost 30-10. Zero pass rush. Taco Charlton, 9 days on the team leads Miami's D-line in sacks... That's just sad. F-

Secondary CB Xavier Howard is a good player. Other than that... Rowew can ply in this league and Reshard is either old or... Plenty of mistakes and wide open WRs F

Special teamsJason Sanders was 0 for 2 on FGs, Even Sanders ?? F

Coaching The Dolphins coaches are just not very good. There is no reason to think otherwise. The team is 81-0 after halftime. Second have adjustments ?? really ? I get the tanking, I get the rebuild, but if the team doesn't improve and falls a part every half time... F-!!!




On the 1st of November, 1970, RB Mercury Morris, gained a Dolphin record of 302 combined yards. He ran 8 times for 89 yards, received 3 balls for 68 yards and returned 6 kicks for 145 yards.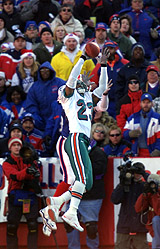 CB Patrick Surtain