Dolphins vs Chiefs Summary

11/5/23

Grading the Dolphins

QB Tua had a below average game. He was held to 193 yards (21 of 34), his lowest of the season and could not bring the team back eve when they had a first down at the KC 31 in a 7 point game late in the 4th. Just not a very good game by Tua. It happens. D+

RB Mostert had 85 yards on 12 carries with almost half of them coming on 2 rushes late in the 4th. The running game really is not playing as good as in the begining of the year and the injuries keep coming. C

WR The Chiefs went out of their way to stop Tyreek and they managed to hold him to only 62 yards on 8 receptions and he had the costly fumble that was returned for a TD and proved to be the difference in the game. Waddle continued his off year with 3 recptions. C

OL The Dolphins O-line is losing players and they joined the rest of th eoffense in the average game. C+

LB The Dolphins played a decent game, Long really looks good. They managed to keep Mahomes to 14 points, that's impressive. Chubb is playing loke a probowl player. B

DL The Dolphins D-line did seem fine and were a big part in containing the dangerous superbowl champion offense. They certainly not the reason the team lost. B

Secondary Ramsey looks like star player. He will be a great upgrade to the defense that seems like they are playing better every week. B

Special teams The Dolphins special teams are not very good and that's not going to change. C+

Coaching
They will have a label of a team that can not win the big one. They just played a sloppy game and did not look like themselves. The Defense is certainly getting better each week but the offense is regressing. C-


On the 1st of November, 1970, RB Mercury Morris, gained a Dolphin record of 302 combined yards. He ran 8 times for 89 yards, received 3 balls for 68 yards and returned 6 kicks for 145 yards.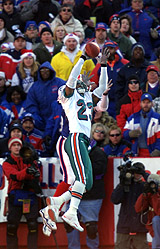 CB Patrick Surtain