Dolphins vs Chiefs game Summary

12/13/20

Grading the Dolphins

QB Tua played a decent game going 28 of 48 for 316 yards 2 TDs and his first career INT and a rushing TD. He did give up a safety and he really had only Gesicki to throw to until he was injured. The Dolphins need to surround him with talent as the WRs were covered most of the game and Tua had to throw to tight windows or throw away. The INT was a tipped long ball to Grant. B

RB The offense missed the top 3 (!) RBs. They starter DeAndre Washington and he was average at best. The O-Line did not help... D+

WR Parker dropped a 50/50 ball in the endzone that should hace been caught, Gesicki was great until he was injured (2 TDs) and Bowden hada good game with 7 receptions for 82 yards but the WRs were never open. The Dolphins need at least 2 solid WRs. There is reallt no one opposite Parker and Grant drops too many balls. This unit really could use an upgrade in the offseason. C-

OL The Chiefs were all over Tua including a safety that made a difference and it's not like the run blocking was any good. C-

LB The Dolphins were missing 2 starters and it showed. Van Ginkel tipped the ball that resulted in the first INT ans Baker had a good game including a 30 yard sack. Decent game against the NFL's best. B-

DL They were OK. Not a lot of pressure on Mahomes and the Chiefs did run too much. Raekwon Davis had a good stop on 3rd and 1 but the Chiefs converted on 4th down. B-

Secondary X and Jones did a good job, both got INTs. Rowe could not handle Kelce and Hill killed them with his speed. McCain had to miss a few steps and Mahomes capitalized with a long TD. Mahomes finished with almost 400 yards. C-

Special teams Jason Sanders missed a crucial 45 yard FG. The Dolphins gave up a 67 yard punt return for a TD. You can not beat the Chiefs by giving them 7 points on special teams. F

Coaching They were good in the 1st and 4th quarters but too many mistakes and injuries really hurt them. The Dolphins will need to add playmakers on offense and the special teams slip was out of character. The two most important games of the year are up next begining with New England. C-




On the 1st of November, 1970, RB Mercury Morris, gained a Dolphin record of 302 combined yards. He ran 8 times for 89 yards, received 3 balls for 68 yards and returned 6 kicks for 145 yards.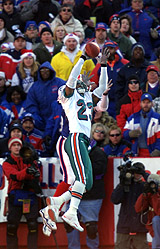 CB Patrick Surtain