Dolphins vs Chiefs game Summary

12/24/17

Grading the Dolphins

QB Cutler followed his worst game with an avergae to below average game. He did not turn the ball over and finished 19 of 38 for 286 yards and a TD. The numbers don't tell the story - the Dolphins managed only 13 points and that's not enough to win in this NFL. C-

RB Kenyan Drake played OK he just did not have enough opportunities. He rushed only 13 times for 57 yards and was a non factor in the passing game. C

WR The Dolphins WRs were average. The TEs combined for 1 catch... Grant had 4 catches for 107 yards including a 65 yard TD on a short throw. Other than Grant they were average at best. C

OL The run blocking was iffy to go along with average to decent pass blocking. They did have some ill advised penalties like the Larsen 15 yard penalty to push them out of FG range. C

LB Kiko and the entire LB unit missed a few tackles. They also could not cover the TEs. The run stopping left something to be desired. Just a bad game. D

DL There was no pressure on Smith and they were too mane penalties. The front 4 could not stop the run either. D

Secondary The Chiefs caught long balls and routinely were past the Phins defense. They made Alex Smith look good. That's a problem. Smith threw for over 300 yards. D-

Special teams Haack did not play well and Parkey missed his 2nd FG oif the season form 48 yards out. They weren't that bad. C+

Coaching The Dolphins are plying poorly and not up to the level of their talent. That's a problem. They should try play the yonug guys to see who can contribute next year when Ryan is back. D




On the 1st of November, 1970, RB Mercury Morris, gained a Dolphin record of 302 combined yards. He ran 8 times for 89 yards, received 3 balls for 68 yards and returned 6 kicks for 145 yards.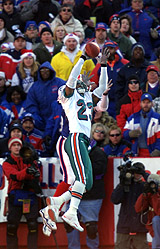 CB Patrick Surtain