Dolphins vs Jacksonville Summary

10/17/21

Grading the Dolphins

QB Tua came back and the Dolphins clearly looked better with him. Aside from one mistake he played well completing 33 of 47 for 329 yards and 2 TDs. He played good enough to win without Parker and Fuller but it wasn't enough. We finally saw the team try deeper passes even though the protection could have been better. B

RB The Dolphins have 2 small RBs and a third string RB that can't really convert 3rd and 1. Brown had 24 yards, Ahmed 22 and Gaskin 9 (NINE) on 5 carries - Ouch. F

WR Tua was back and Gesicki finally had a good game catching 8 for 115 yards as Miami started to actually throw downfield. Waddle had 10 receptions for only 70 yards. C

OL The Dolphins are giving up too much pressure and could not run block, that pretty much is the job of the O-line. They were helped by the return of Tua as far as sacks are concerned. D

LB Baker is just not the same player as last year even though he led the team in tackles. Van Ginkel is also invisible and so is Roberts. D

DL Ogbah and Wilkind had a sack but they gave up too much rushing yards. Davis was back and it helped. D+

Secondary Well not having Jones and howard did not help. Noah is a 1st round bust, it's quite clear by now. They made a rookie QB look like a solid player. D-

Special teams Even Jason Sanders is not the Sanders of 2020... C

Coaching What an awful display. The Dolphins lost to a team coming from 20 straight losses - That's TWENTY ! second longest streak ever in a league that is over 100 yeras old. This team is in total collapse now and they are going to make another mistake in trying something to save their jobs. What a disappointment. F!


On the 1st of November, 1970, RB Mercury Morris, gained a Dolphin record of 302 combined yards. He ran 8 times for 89 yards, received 3 balls for 68 yards and returned 6 kicks for 145 yards.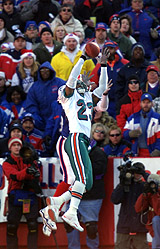 CB Patrick Surtain