Dolphins vs Jacksonville game Summary

9/24/20

Grading the Dolphins

QB Ryan Fitzpatrick had a great game - 18 of 20 for 160 yards and 2 TDs. He added a rushing TD and was very highly efficient. A

RB The Dolphins ran Gaskin effectivly in the first half. The second half was not as efficient. He finished with 22 carries for only 66 yards but most of them was just running out the clock in the second half. What ever happened to Jordan Howard (3 carries for 1 yard and a TD) ? B-

WR Parker had a nice game even though he is not 100% (5 recptions for 69 yards). Suprisingly Gesicki only had 1 catch but that one was for a TD. All other 4 WRs combined for 5 catches only. C

OL The Dolphins O-line is improving with each passing week. The starting 5 look good in pass pro. Still can get better run blocking. B+

LB Finally a solid game. Van Noy had a sack-strip-recovery near the 10 yard line that resulted in a TD. Grugier-Hill and Van Ginkel had sacks. B

DL Better play by the line. They defended the run better and had some pressure on Minshew. It won't be enough for Seattle but it was certainly better than last week's disaster. B

Secondary A much improved secondary although they did have some glitches that Minshew misssed, Wilson next week will not miss. The team needs their highest paid player Byron Jones to come back from injury and perform. B

Special teams The Dolphins have a solid special team unit. The kicker and punter positions are a plus. Big game for Haack. B+

Coaching Much much better. The play calling made sense and it was a very good team effort on the road on a short week. Well done. A




On the 1st of November, 1970, RB Mercury Morris, gained a Dolphin record of 302 combined yards. He ran 8 times for 89 yards, received 3 balls for 68 yards and returned 6 kicks for 145 yards.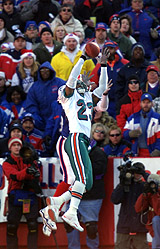 CB Patrick Surtain