Dolphins vs Jaguars game Summary

12/23/18

Grading the Dolphins

QB Tannehill was awful again 15 of 22for 146 yards 1 TD on a shovel pass and an INT returned for a TD and3 sacks. F

RB The Dolphins scored 7 points. Seven! F

WR Parker and Parker - the Dolphins soon to be starting WRs COMBINED for 3 receptions for 18 yards. F

OL 3 sacks? SEVEN points, penalties pressure that led to a pick six... F

LB The Dolphins lost at home to the Kessler/Bortles 4-10 Jacksonville Jaguars... F

DL They had 6 sacks but still lost to the Jaguars at home.. D

Secondary Somehow the 2 awful Jaguar QBs looked OK. It's really hard to do... D-

Special teams When the punter needs to make a TD saving tackle... F

Coaching Really ??? Really ??? Did I mention they lost at home to the 4-11 Jaguars led by Kessler/Bortles when the game mattered to Miami and not Jax ? At least they will have a better draft slot... F




On the 1st of November, 1970, RB Mercury Morris, gained a Dolphin record of 302 combined yards. He ran 8 times for 89 yards, received 3 balls for 68 yards and returned 6 kicks for 145 yards.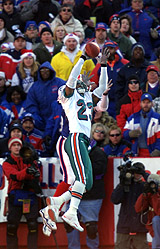 CB Patrick Surtain