Dolphins vs Indianapolis Summary

10/3/21

Grading the Dolphins

QB Brisett isn't very good. Enough with the Tua comparison already. He really made Chad Henne looed like a gunsliger. 17 points against the winless Colts ?? Really ? F

RB The Dolphins don't think the RB is an important position and it showed. They really need to go back to Gaskin, although it probably won't help. A RB with the 18th pick instead of the invisible (but getting better) Philips looks like a good idea now. F

WR This offense is just BBBAAADDD. No downfield passing and downfield meaning 10 yards in the air... F

OL The Dolphins started their 4th combo in as many weeks. Will 18th overall pick be moved to Guard ?? It doesn't look good... F

LB 27 points to the winless Colts ? Stopping the run ? anyone ? F

DL The Dolphins can't rush the passer and they can't stop the Run. Maybe the return of Davis helps and maybe not. F

Secondary The Dolphins secondary is suppose to be elite. Really?? F

Special teams By now you get the picture, everyone gets an F. F

Coaching Well, another terrible game. The offense and defense are terrible. The Dolphins seem unprepared and the high draft picks look like misses. That pretty much sums it up. Headin to 1-4 after Tampa. F !!!




On the 1st of November, 1970, RB Mercury Morris, gained a Dolphin record of 302 combined yards. He ran 8 times for 89 yards, received 3 balls for 68 yards and returned 6 kicks for 145 yards.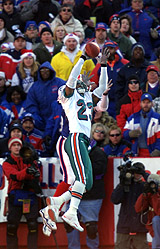 CB Patrick Surtain