Dolphins vs Indianapolis Summary

11/10/19

Grading the Dolphins

QB The Dolphins won ! Agains! Awful. Fitzpatrick played OK but this really is a game the DOlphins had no buisness winning, Bye bye Tua... Ryan was 21 of 33 for 169 yards and an INT C

RB The Dolphins really miss Mark Walton. Ballage had 43 yards on 20 (!) carries. D

WR Parker (5 for 69 yards) led the way but other than him no WR made a difference. C-

OL The Dolphins O-line is playing better than at the begining of the year but they are still a work in progress C-

LB The Dolphins playeda good game limiting the Brian Hoyer led Colts to 12 points. B

DL The Dolphins D-line is not very good and should be adressed again in the first 2 rounds of the draft, they really need a pass rushing DE that can play the run. B-

Secondary They did get 3 INTs - McCain, Parker and Needham. I realize it's Hoyer but still.. A-

Special teamsThe kicking game was great 48, 48 and 47 yard Fgs aren't that easy... A

Coaching The Dolphins coaches now have a 2 game win streak, it's 2011 all over again, enjoy it, it probably cost the team the next 5 years or at least 2 first rounders... B




On the 1st of November, 1970, RB Mercury Morris, gained a Dolphin record of 302 combined yards. He ran 8 times for 89 yards, received 3 balls for 68 yards and returned 6 kicks for 145 yards.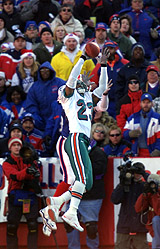 CB Patrick Surtain