Dolphins vs Colts game Summary

11/25/18

Grading the Dolphins

QB Tannehill was back and the depleted offense looked much better with him throwing. Osweiler is nowhere near Tannehill's level. He finished 17 of 25 for 204 yards and 2 TDs proving again that stats don't mean a lot in today's NFL because when they needed the offense the most up 10 with a quarter to play the offense could not get a first down. It was mostly on Gase's play calling but still... B-

RB Gore (14 for 67) and Drake (8 for 32 and a TD, 5 receptions for 64 and another TD) are all of Miami's offense. The problem is teams figured that and are defending against the backs (Who would you cover ? Parker ?) Gesicki ? (headed to Bustville?) B-

WR Really ? when the Dolphins desparetley needed yards they threw a buble screen to DeVante Parker ? Parker ? (3 catches for 10 yards ? they are not going to pay the 9M per year now, I hope...). The Dolphins do not hae legitimate WRS. Stills ? 1 reception for SIX yards, Gesicki ? 1 reception FIVE yards and 1 fumble lost ? Really ?? Carro had a nice long reception and that was it for the entire WRs... F

OL The tackles were OK (penalties hurt), the inside guys aren't helping. There is a reason Larsen and Brendel are not starters... C

LB The two starting safeties combined for 17 ackles and 2 assists, that says something about the LBs. Kiko is playing well but other than that.. They could not stop Luck and the running game. D-

DL When Wake is the best player... Run stopping ? what's that ? Pressure ? D-

Secondary They really should play better with their talent level, decent safeties, one GREAT CB (Howard had 2 INTs) and a promising rookie but they are not playing up to the level of their talent. Luck killed them in the 4th. D- (Howard not included)

Special teams They blocked a punt, which was great (a course refreshment on football rules can help - don't field a block punt...). The special teams is not the problem of this team. B+

Coaching That loss is on Gase. Two last drives, up 7 from the Fins 25 and they throw, throw run for -5 yards, take 43 seconds off the clock anf punt ? AWFUL! then backed up in a tie game electing not to try and ply for the win and giving Luck the ball back with good field position ? Really ? the defense can't stop Luck - play to win the game.... F-




On the 1st of November, 1970, RB Mercury Morris, gained a Dolphin record of 302 combined yards. He ran 8 times for 89 yards, received 3 balls for 68 yards and returned 6 kicks for 145 yards.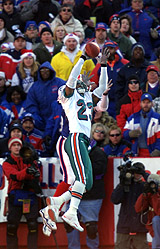 CB Patrick Surtain