Dolphins vs Houston Summary

11/27/22

Grading the Dolphins

QB Another game and another close to perfect game by Tua. The Texans were no match for Tua as he led Miami to a 30-0 lead and exited in the 3rd quarter after throwing 299 yards by then. A

RB The Dolphins did not run the ball much, Wilson led the team with 39 yards on 13 carries. Just an OK game. C+

WR A quiet game for Tyreek and Waddle as each had 85 yards but not scoring, Cracraft added 55 on 4 catches. Smythe caught his first TD of the year. B

OL The Dolphins O-line was solid as Tua had time right until the moment T-Stead was injured. After that Tua was sacked and his absense was noticeable. I hope he comes back soon. B

LB The Texans are not a very good team. The Defense dominated in the first half and the entire second half was basically garbage time. B

DL A solid performance against a really bad team. b> B

Secondary The Texans did complete more than they should have in the second half but in general it was a decent performance by the secondary. B

Special teams In a game against such a bad team the special teams are not that important, that will change quickly in the coming weeks. C

Coaching It was by far the easiest game on the schedule but you need to win the easy ones first, that's what good teams do. B+


On the 1st of November, 1970, RB Mercury Morris, gained a Dolphin record of 302 combined yards. He ran 8 times for 89 yards, received 3 balls for 68 yards and returned 6 kicks for 145 yards.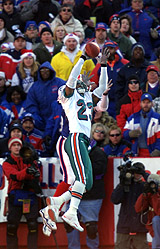 CB Patrick Surtain