Dolphins vs Houston Summary

11/7/21

Grading the Dolphins

QB Brisett showed why he is the backup QB. He did not play very well but the Texans are a really bad team. He finished 26 of 43 for 244 yards, a TD and 2 INTs. Let's hope Tua's finger gets well soon. D+

RB Gaskin had 34 yrds in 20 carries... ouch... That's even worse than last's week's 36 yard total on 20 carries. F

WR Waddle had 83 yards on 8 catches and is clearly the number one WR on the team. Gesicki 4 for 54 yards. Parker missed another game. C+

OL The Dolphins are getting better but not by much, their O-line is just awful... Thank god the Texans are really really bad. D

LB The Dolphins played well on defense but this is the Texans... Baker had an INT. B+

DL Ogbah and Wilkins are playing very well this year. Wilkins is probably the most improved player on the team. The run defense is playing better since the return of DT Davis. B+

Secondary The Texans are not very good. The Dolphins secondary is playing better, especially the young safeties. Holland is really emerging and looks like a very good pick. Coleman and Holland both had INTs B+

Special teams Nothing major on special teams. C+

Coaching Glad to get the first win since the opener but it was against the Texans. The defense played well for a second consecutive game but the big test comes Thursday. B


On the 1st of November, 1970, RB Mercury Morris, gained a Dolphin record of 302 combined yards. He ran 8 times for 89 yards, received 3 balls for 68 yards and returned 6 kicks for 145 yards.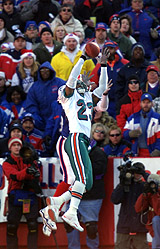 CB Patrick Surtain