Dolphins vs Green bay Summary

12/25/22

Grading the Dolphins

QB Tua looked lost at times, he just did not play very well and threw 3 INTs on the game. He did have a long completion to Waddle that Waddle turned into an 84 yard score and another 52 yarder to Hill but other than that it wasn't pretty 16 of 25 for 310 yards, 1 TD and 3 INTs for a rating of 80.8. D-

RB The Dolphins run game was decent, Mostert 8 for 45 and Wilson 9 for 37 and a TD but the Dolphins did not run enough and failed when it mattered most. B-

WR Hill and Waddle played well and both went over 100 yards. Gesicki has not played well and the other WRs are just not performing as earlier in the season. C+

OL The Dolphins O-line is just decent, I don't think they lost the game because of them. They had an average game. C

LB The Dolphins lack of a big time ILB is showing every week. The Dolphins gave up 26 at home, that's a lot. C

DL How is christian Wilkins not in the pro bowl ? They are not getting to the QB often enough - Philips and Chubb are first rounders and should put more pressure on the QB. C

Secondary The Dolphins banged up secondary was torched by Green bay. Yes, there are injuries but still... C

Special teams The Dolphins special teams are not very special. Things will probably change in 2023. C

Coaching A win would have almost surely secured a playoff spot and they lost, their continued losing streak is now a total collapse. That has to be on coaching to a degree. D-


On the 1st of November, 1970, RB Mercury Morris, gained a Dolphin record of 302 combined yards. He ran 8 times for 89 yards, received 3 balls for 68 yards and returned 6 kicks for 145 yards.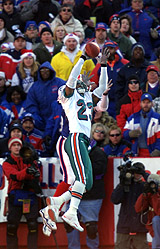 CB Patrick Surtain